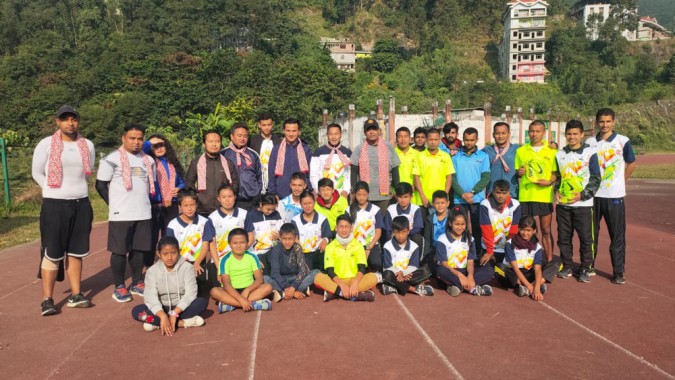 Saturday, Nov 21, 2020 13:30 [IST]
Last Update: Saturday, Nov 21, 2020 07:51 [IST]
Sikkim runners overcome lockdown inertia, to debut in Darjeeling Hill Marathon
Project Life reshaped our lives, made us mentally and physically stronger, says members

BIJOY GURUNG
GANGTOK: The Darjeeling Hill Marathon this Sunday, among its celebrities and seasoned athletes from different parts of the country, would also introduce a motley group of freshers from neighbouring Sikkim who took up running primarily to beat the Covid lockdown-induced inertia.
Initiated by musician-academician Dr. Sudarsan Tamang in early July after Covid lockdown saw some relaxations, 'Project Life' has expanded to more than 100 members by November. The members come from various backgrounds like educationists, health professional, students and singers who were not so much into sports or fitness activities. Among them, twenty members are taking part in the Darjeeling Hill Marathon, the biggest such event in North Bengal. Fifteen of them are running a marathon for the first time in their lives.
"We are not a professional running group. We expect that our runners will finish the race within a respectable time and more importantly, enjoy the moment and inspire more people to take up running or other forms of healthy lifestyle," said Dr. Tamang, an assistant professor in the Department of Chemistry, Sikkim University here.
The 'Project Life' group of runners are reaching Darjeeling town on Saturday for the run which has two sections of 21.1km and 10km runs in six categories and starting from Chowrasta. It was a prospect unimaginable till a few months ago for many 'Project Life' members including Dr. Anand Pariyar, an asthma patient since childhood.
Dr. Pariyar, 35 years, is from Kalimpong and presently working as an assistant professor in Department of Chemistry, Sikkim University in Gangtok. He was among the first members of 'Project Life' starting early July and on August 15, completed his maiden 21-km run at Khel Gaon, Reshithang near Gangtok.
"Being an asthma patient since childhood, running was an impossible dream for me. As of today, I have run more than 10 half-marathons in last three months and eagerly waiting to finish Darjeeling Hill Marathon at my personal best," said Dr. Pariyar.
The first Covid-19 lockdown had taken a big toll on his health, both mental and physical and he was weighing more than 90 kg. He first started walking with 'Project Life' members which eventually turned into a jog and then a run.
Lockdown and corresponding restrictions on physical movement starting March last week were the reasons which gave birth to 'Project Life'.
"Sikkim observed one of the strictest lockdown measures in the country. We were not allowed to even venture out for morning walks. I had gained weight due to lack of physical activity. I also felt that the lockdown has affected some of my friends who are already overweight and were on medication. I wanted not just myself to run but also them. As soon as the lockdown was relaxed (July), I asked some of my close friends for a walk. Slowly, they were able to run 5 km and then 10 km. Before long, they were comfortably running 21 km and lost considerable weight. I thought this can change lives of other people also. That's how the idea of forming a group crossed my mind," said Dr. Tamang. He himself is an avid runner and has taken part in competitive marathons before.
Dr. Tamang, Dr. Pariyar, Binod Chettri and Bishal Darnal were the four members in the beginning days of 'Project Life'.
The 'Project Life' members based in Gangtok come together and drive to the Khel Gaon, Reshithang where they run from two hours every morning. Members who are in Kolkata, Delhi, Darjeeling and elsewhere post their morning activity in the Whatsapp group of 'Project Life'.
"The results have been amazing. Many members have lost more than 10 kg in one month and have gained many health benefits. Lives have definitely changed," says Dr. Tamang.
Member Nobina Regmi shares the exact belief.
"I was never into sports but 'Project Life' changed my life. It changed my perspective. I started waking up early and started giving time for myself. It has been an enriching journey," says the 23-year-old from Ranipool. She is pursuing her Masters' degree in Chemistry from Sikkim University.
"This Sunday I am taking part in Darjeeling marathon and this is the first marathon of my life. I am excited and nervous and looking forward to the event," said Regmi.
Similarly, member Surakcha Thapa believes that running since July with 'Project Life' has made her stronger, both mentally and physically. "A person like me who could not even run one km without taking a break is now running the Darjeeling Hill Marathon. I have started living a healthy lifestyle and this Darjeeling Hill Marathon is surely going to be a stepping stone in my journey of marathon," she said.
Thapa is also a Ph.D student in Department of Chemistry, Sikkim University and hails from Legship, west district.
Manoj Rai, a singer-musician and a 'Project Life' member, is also running the 21- km category of the Darjeeling Hill Marathon. I have never thought that I can run a marathon but 'Project Life' changed my lifestyle, he said. He joined the group two and half months ago.
Rai has already run three 'virtual marathons' and is thrilled to take part in the Darjeeling run. He is the founder and director of Reeyaz Sangeetalaya, a music academy in Gangtok.
Bishal Darnal, one of the first members of the group, observed that a 'caring and powerful friend circle' was a big reason to prepare him for Darjeeling Hill Marathon, his life's first marathon.
Darnal works as a political science teacher under Education department. He had 'swelled up' to 97 kg during the lockdown inviting lifestyle diseases and took up running with 'Project Life'. Now I am a changed man with renewed self-confidence and foresee a beautiful life through the art of running, he said.
Similarly, member Binod Chettri has enrolled for the 21-km category of the Darjeeling Hill Marathon. This will be my first certified real marathon, he said adding that he previously thought running was not his cup of tea having never played any sports in his life.
"When I started running, I did not go to the ground on my own will but was actually dragged to the venue by the Project Life members," recalls Chettri. He started with four laps (one lap being 400 m) at Reshithang ground. Now he can do 52 laps.
Dr. Samten Tamang, an assistant professor in Mathematics in Burdwan University, was over 80 kg during the lockdown period. He is here in Gangtok since March due to the lockdown and later came across 'Project Life'. He took up running with the 'Project Life' members from September.
"Initially I suffered and found it difficult to even run 5 km. Now after two months of continuous practise, I am ready and confident for 21 km run in Darjeeling which I never thought I would be able to do," said Dr. Tamang.
Member Dr. Andrew Cintury from Tadong here is also set for the Darjeeling marathon, a first marathon for him. "I never thought I would be running more than 5 km. Now after months of happy running, I have surpassed my mental barrier and started to run for 21 km," said the 27-year-old crediting 'Project Life' for his transformation.
'Project Life' members endorse that running daily after months of lockdown inactiveness helped them to celebrate life amidst the uncertainty posed by the pandemic.
Few months ago, I was well over 90 kg because of my lifestyle and could not even walk properly, shares Dr. Anup Gurung. The 38-year-old hails from Lebong, Darjeeling and is presently working as an assistant professor in SRM University, Sikkim here in Gangtok.
"Friends from 'Project Life' convinced me to wake up early and took me to Reshithang ground. They made me walk first, then walk-run and then run. It was painful but the members helped me to get through the initial phase," said Dr. Gurung.
"Now through continuous practise, I am confident that I will complete the 21 km run in Darjeeling. I am truly celebrating life," said Dr. Gurung.