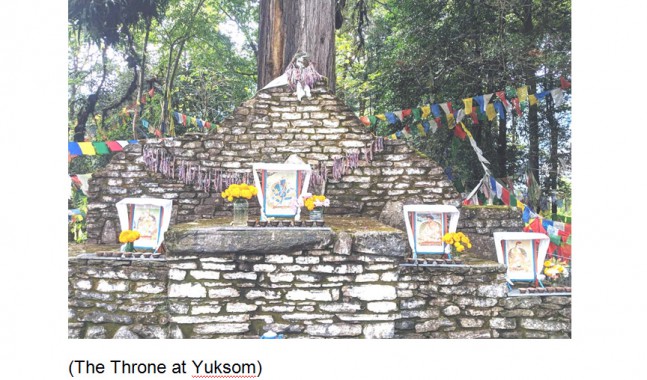 Sunday, May 17, 2020 16:45 [IST]
Last Update: Sunday, May 17, 2020 11:27 [IST]
Sikkim State Day Special
The Chogyals of Sikkim
S. BALAKRISHNAN
Number 13, as is generally believed, seems to be an unlucky number for the Chogyals (kings) of the erstwhile Kingdom of Sikkim as well. The Namgyal dynasty's rule ended on 16thMay 1975 with the 12th Chogyal when Sikkim became the 22nd state of Indian Union and the monarchy getting abolished.Let us look at the history of the Namgyal dynasty that ruled Sikkim for more than 300 years.
The Namgyals are of the stock of the Minyak Kingdom founded in the Kham region of Eastern Tibet in the 9th century A.D. Around the first half of the 13th century, a scion of Minyak House was on pilgrimage with his five sons to West Tibet. One of his sons, Khye-Bumsa, married the daughter of the hierarch of Sakyaregion and settled in the Chumbi Valley which later became the nucleus of Sikkim kingdom.Khye-Bumsa helped in raising the great Sa-Kya Monastery (1268 AD). With the Nathu La and Jelep La passes connectingChumbi Valley and Sikkim, he came in contact with the indigenous Lepchatribe of Sikkim; this friendship between the Bhot/Bhutias who came from Tibet to settle in Sikkim and the ethnic Lepchas was bonded with a blood brotherhood swearing between Khye-Bumsa and Thekongtek, the Lepcha Chief, at KhabiLongtsok (11 kms north of Gangtok). Khye-Bumsa was succeeded by MiponRab, his third son; succeeding him was his fourth son Guru Tashi who moved the capital to Gangtok.

After such 300 years of rule and five generations later, Phuntsog of Gangtok (born 1604) was formally consecrated as the first Chogyal of Sikkim in 1642 at Yuksom (West Sikkim) by three learned Lamas, as prophesied. LhatsunChhempo, one of these three Lamas, gave his own surname of Namgye to Phuntsog and conferred the title of Chogyal (Temporal & Religious King / King who rules with righteousness).PhuntsogNamgyal was also one of the canonized saints of Buddhism. The Namgyals followed the Mahayana Nyingma sect of Buddhism. It was natural that he shifted the capital to Yuksom in West Sikkim. It was during his reign that Buddhism was consolidated as the established religion in Sikkim. TensungNamgyal, the secondChogyal, was crowned in 1670. He shifted the capital to Rabdentse (also in West Sikkim). Again, within the next 30 years, the third Chogyal was Chador Namgyal; his coronation took place in 1700 when he was just 14 years.The minor king was taken to Tibet for asylum. A few years after return, however, he was murdered in 1716 in a conspiracy cooked by his half-sister Pedi Wangmo, who aspired for the throne. But she was later strangled to death with a silk scarf. A religious man, Chador Namgyal founded the alphabet for the Lepcha language. What is a royal house without conspiracies and murders!So, in 1717 his son GyurmedNamgyaltook charge as the fourth Chogyal. Then again, he was just 10 years old; so Lama JigmedPao was the regent. He died young at 26 years, while his father was murdered at 30 years. On his deathbed in 1733, he revealed that a nun in Sangnakcholing was carrying his son. This posthumous son, fifth Chogyal in line, was PhuntsogNamgyal. On request from Sikkim, Tibet sent RabdenSharpa to be the regent during the infancy of the boy king. The 5th Chogyal was consecrated twice; in Sikkim the coronation of a Chogyal may be repeated, as this is believed to augment the auspiciousness of his reign. After a considerable long reign, his son TenzingNamgyal(11 years old) ascended the throne as the sixth Chogyal of Sikkim in 1780. During his period also there were aggressions from Nepal and Bhutan, with considerable loss to Sikkim. Then Sikkim got involved in the Sino-Tibet invasion of Nepal. In the meanwhile, Tenzing had moved to Khabi and then to Lhasa where he passed away in 1793.

The charge fell on the tender shoulders of his eight year old son TsugphudNamgyal who ruled as the 7th Chogyal from 1793 to 1864. British supremacy was slowly gaining ground and the small Sikkim kingdom was no exception to their machinations. They decided the Sikkim-Nepal border along Mahanadi and Mechi rivers and Singalila ranges; this was against Sikkim's position. Considering Rabdentse close to Nepal border, TsugphudNamgyal shifted the capital to Tumlong (in north Sikkim, near Phodong). It was during his reign that Darjeeling was lost to the British (1860). TsugphudNamgyal died in 1863, probably sad and dejected.His son from second marriage, Sidkeong (born 1819), took over as the eighth Chogyal, despite being a Lama. He was succeeded in 1874 by his half-brother Thutob (born 1860), the son of Tsugphud from his fifth consort, as the ninth Chogyal. He ruled until his death in 1914, for 40 years. His enthronement took place in Chumbiwhich was then a part of Sikkim. During his period, Sikkim's demographic map drastically changed with vast settlement of Nepalese. This was mainly due to internal skirmishes at the top administrative level. The keen interest of British in establishing trade with the 'closed' Tibet inadvertently caused Sikkim the loss of Chumbi to Tibet which reinforced itself there. The arrival in 1887 of Claude White as leader of British expedition (later he became the Political Officer) saw the deterioration of relationship, even leading to detention/confinement of the Chogyal and Queen at Kalimpong (several months), Kurseong (2 years), and then Darjeeling (6 months). Thutob's powers were diluted by the Political Officer. The Chogyal formed a group of ministers and even set up a Secretariat. He also found the first English school in 1906.

SidkeongTulku(born 1879), the second son of Thutob from his first wife, took over the reign in February 1914 as the tenth Chogyal, on passing away of Thutob. While it was planned to hold a full coronation for Sidkeong in February 1915 after the end of yearlong mourning on the passing away of hisfather, Chogyal Thutob Namgyal, he himself died under mysterious circumstances. A British physician conspired SidkeongTulku's death in December 1914. Sidkeong was an incarnate Lama (Tulku) and an extraordinary individual. He had taken up administrative and land reforms. He distinguished himself as a student of Oxford University for two years. Under his father's rule he was in charge of forests, schools and monasteries and was at the helm of affairs for two years before finally taking over.
On the sudden and untimely death of Sidkeong Tulku, his brother Tashi Namgyal (born 26 Oct. 1893) had to take over as the 11th Chogyal of Sikkim on 19th February 1915, while the actual coronation was organizedonly on 15th May 1916 after the customary mourning period. His 48 yearrule saw many social and economic reforms, leading to all-round development of the kingdom. A high court was established for separation of higher judiciary from executive. Labour and land reforms were undertaken. After Jawaharlal Nehru's visit to Sikkim in 1952, two five-year plans were implemented successfully. Political parties were formed after the Second World War. The newly-formed Sikkim State Congress demanded, among other things, accession to India.In 1961 Tashi Namgyal promulgated the Sikkim Subjects Regulationto define the statues of a Sikkim subject. This also firmed up that only Sikkim subjects could buy land in rural areas of the country. Himself agood painter, he supported arts & letters. Chogyal Chempo Sir TashiNamgyal passed away on 2nd Dec. 1962. TashiNamgyal's wife, Gyalyum (Queen Mother) KunzangDechenTshomoNamgyal, passed away on 10 March1987 at the Gangtok Palace due to prolonged illness. She was 83 years old.

On the passing away of Sir Tashi Namgyal, his second son, Miwang Chogyal ChempoPaldenThondupNamgyal, was consecrated as the 12th Chogyal of Sikkim on 4th April 1965. Who would have imagined that he would be the last Chogyalof Namgyal dynasty of Sikkim Kingdom!Born on 22ndMay 1923, PaldenThondupNamgyal was the incarnate of the Chogyal Sidkeong and re-incarnate of the revered Karmapa Lama of Kham (Tibet). He underwent monkhood studies for two years. He also did regular schooling in Kalimpong, Darjeeling and Shimla. He was to study advanced science at Cambridge University but the tragic death of crown prince PaljorNamgyal, an officer in the Royal Indian Air Force, changed everything. So, instead, he underwent Indian Civil Service training at Dehra Dun. Returning to Sikkim, he assisted his father, Tashi Namgyal, and soon became his principal adviser in judicial and executive issues. He married SangeyDeki of Tibet in 1950. As she passed away in 1957, he married Miss Hope Cook of USA in1963. He had three sons–Tenzing, Wangchuk and Palden - and two daughters – Yangchen& Hope. Chogyal PaldenThondupNamgyal had another shock in 1978 when his first son, the crown prince TenzingKunzangJigmeNamgyal, died in a car accident. Therefore, his second son TobgyalWangchukTenzingNamgyal(also from his first marriage with SangeyDeki) was named the 13th Chogyal, though the title no longer carries any official authority. Forfeited of kingdom and the death of his son, PaldenThondup died a shattered man due to cancer in USA on 29th January 1982. The 12th and last Chogyal is remembered for shaping Sikkim as a 'model Asian state' with literacy and per capita income double the rate than in its neighbouring countries.

Once a considerably large kingdom, the land-locked Sikkim lost much of its territory to its neighbours – Nepal, Bhutan, Tibet and the British India.The royal emblem has now become the State emblem. What if Sikkim had not 'merged' with India, one might be tempted to ask. They must remember that the ever hungry dragon which had licked off Tibet in one swipe is waiting just across.
I must gratefully acknowledge 'Sikkim Coronation' Souvenir Bookas the source book. I must have bought this at the tiny curio shop opposite STNMHospital, maybe for 50 rupees, though no price is marked in the Souvenir. A rare book, I treasure it for theauthentic information, rare photos and insight into the Namgyal dynasty. Brought out by the Coronation Souvenir Book Committee,Gangtok (in 1965?) on the occasion of coronation of the 12th Chogyal PaldenThondupNamgyal, the book was printed by The Statesman Press, Calcutta (Kolkata). During PhangLhabsol celebrations at the Royal Tsuklakhang Monastery in Gangtok, I had the opportunity to click the members of the royal family. I wonder how I missed the final rites of Queen Mother in 1987, though I have the paper clippings!
krishnanbala2004@yahoo.co.in / 9840917608 Whatsapp