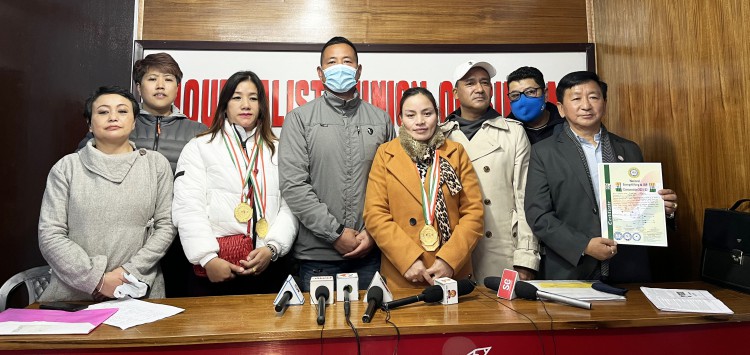 Friday, Jan 14, 2022 08:00 [IST]
Last Update: Friday, Jan 14, 2022 02:28 [IST]
Sikkim strength lifters return with 34 medals from national championship
DICHEN ONGMU
GANGTOK, : Strength lifters from Sikkim have returned home after bagging 34 medals at the 31st National Strength Lifting and IBP Championship held in Alawar, Rajasthan.
The championship was held from December 29, 2021 to January 3, 2022. The Sikkim Strength Lifting Association (SSLA) had fielded a total of 43 lifters who won 12 gold medals, 12 silver medals and 10 bronze medals in the championship.
Addressing a press conference here today, chief coach Pema Dorjee Bhutia said Team Sikkim performed exceptionally well in the championship with two of the lifters setting new national records.
Homnath Siwakoti and Reshma Bhutia set new national records in the England Bench Press events in the men and women's categories respectively, he informed.
The chief coach congratulated the entire medal winning lifters and six State referees who qualified as national referees. He also thanked the State government and all those who have been supporting Sikkim Strength Lifting Association.