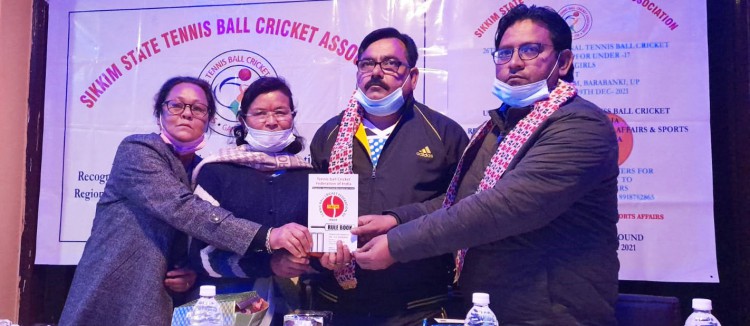 Tuesday, Nov 30, 2021 08:00 [IST]
Last Update: Tuesday, Nov 30, 2021 02:20 [IST]
Sikkim to play in national tennis ball cricket championship
DICHEN ONGMU
GANGTOK,: The officials of Tennis Ball Cricket Federation of India (TBCFI) who are in Sikkim to promote the game spoke with media persons here today.
Addressing a press conference, TBCFI general secretary Imran Ahmad Lari highlighted the benefits of the tennis ball cricket. "It is an affordable sport. It's an injury-free sport and can be played anywhere. The popularity of this game is increasing day by day due to which it has acquired 2% job quota", he said.
Likewise, Sikkim State Tennis Ball Cricket Association (SSTBCA) vice president Atahar Alam said, "We want the students to play this game at both national and international level as it is recognised by the Government of India. The players will receive certificate of participation which will help them attain jobs in future under sports quota."
The visiting officials are also sharing their expertise with the SSTBCA players currently preparing for the 26th Sub-junior National Tennis Ball Cricket Championship for U-17 Boys & Girls to be held in Uttar Pradesh from December 16 to 19.
SSTBCA general secretary Amita Thapa said the association aims to promote and provide a platform to the players who are interested in the tennis ball cricket.
Thapa urged the federation to extend their support in building an academy for the game which will benefit the local players.