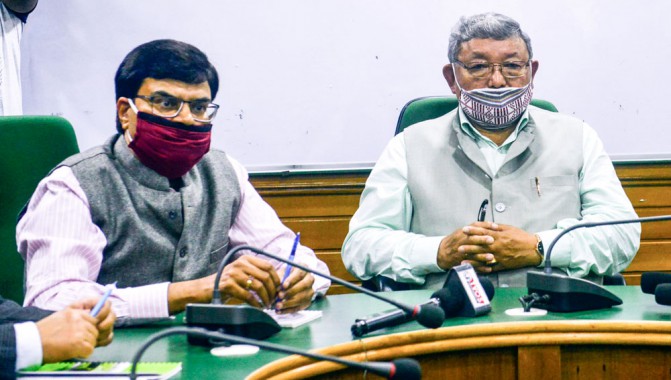 Saturday, May 23, 2020 13:30 [IST]
Last Update: Saturday, May 23, 2020 07:54 [IST]
Sikkim to reopen schools, colleges on June 15
KUNAL RAI
GANGTOK: Amidst the Covid-19 pandemic times, Sikkim has become the first State in the country to announce reopening of educational institutes across the State on June 15 post-lockdown. Initially, classes for ninth standard to the university levels would resume in a staggered manner while online classes would continue for the primary and elementary levels, Education minister Kunga Nima Lepcha said today.
"Schools and educational institutions in the State have been closed since mid-March in the wake of coronavirus pandemic. The loss incurred by the students during this closure is irreparable but we used all available platforms like online teaching, local cable TV and All India Radio Gangtok to conduct classes. We have now decided to resume classes for students of class IX and above, college and universities in the State from June 15. We are waiting for the SOPs from the Union HRD ministry and NCERT which would be followed accordingly. Morning assemblies will not be held, all Saturdays will be working days, social distancing will be maintained strictly and hand washing facility will be installed in all institutions," said minister Lepcha during a news conference at Education department here today.
However, the reopening of schools from June 15 is subject to the then ground scenario and based on the situation, future decision would be taken.
Apart from conducting classes on Saturdays, the Education department is also planning to reduce the number of notified holidays including winter vacation to make up for the loss incurred by the students due to over three-month-long closure of schools and colleges. Further, annual examinations would be held during February 2021, instead of the usual November-December cycle.
All students will have to wear face masks or use cloth to cover their face and mouth. Parents have been advised against sending any sick students to schools.
For students from outside the State coming to attend schools in Sikkim, the minister said such students from neighbouring areas would be accommodated near the schools to attend classes. The students of bordering districts of West Bengal entering Sikkim would have to undergo quarantine and tests before attending their institutions.
Education department additional chief secretary G.P. Upadhyaya added that the online mode and other modes of education imparted during the lockdown had been successful as maximum students of the State could be reached through the medium. However, there were areas which lacked due to some inconvenience which was later rectified by providing laptops with preloaded study materials.
"The lockdown has been very long and has impacted the education of the students. After we resume, we have plans to keep a window period of 10 days wherein we are going to assess and act accordingly. We also plan to initiate counselling of students before normal session begins," said Upadhyaya.
With respect to colleges and universities, the Education additional chief secretary maintained that those students and teachers outside will be called back in a phased manner so there isn't any rush in the colleges. The students, teachers have to undergo quarantine and test for Covid-19 before they start their normal classes.
Similarly, many schools which have been transformed into quarantine facilities for returnees would be sanitised before conducting classes.