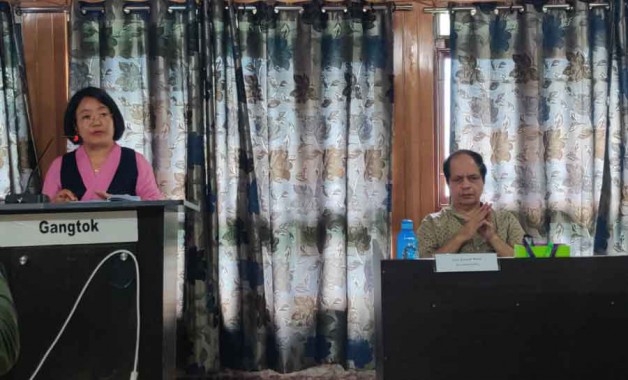 Thursday, Aug 06, 2020 13:45 [IST]
Last Update: Thursday, Aug 06, 2020 08:02 [IST]
Sikkim University hails NEP as 'game changer' in educational reforms
PANKAJ DHUNGEL
GANGTOK: The Sikkim Central University here has hailed the National Education Policy 2020 (NEP), recently approved by the Union Cabinet, as a 'game changer' in educational reforms in the country.
SU vice-chancellor Prof. Avinash Khare today welcomed NEP 2020 terming it as both flexible and practical in nature.
Along with the vice-chancellor, the SU faculty members also welcomed the NEP during the media interaction at Barad Sadan, 5th Mile here.
Khare said the NEP 2020 introduces new and much needed changes in Indian education system that focus on critical learning and development of skills. "After 34 years of wait, India has a new policy which gives us hope for change for better and as per the need of time. It begins with the change in nomenclature to Ministry of Education instead of Human Resource Development Ministry. The policy aims in developing a deep sense of respect towards fundamental rights, duties and Constitutional values bonding with one's country and a conscious awareness of one's role and responsibilities in a changing world. It is aligned to the 2030 agenda for Sustainable Development thereby matching the education at the international level," he opined.
Similarly, SU Education department head Yodida Bhutia termed the NEP 2020 to be the pillars of access, equity, quality, affordability and accountability. "The policy is comprehensive and has covered various areas and levels of education. It has focused on school education right from early child care education and various aspects of school education. The new structure in the foundation learning is divided into two parts of age group 3-6 in ECCE and age group of 6-8 in class 1-2 in primary school. The policy has elaborately dealt on higher education which includes quality higher education, holistic and multidisciplinary education, equity and inclusion, teachers' education, re-imagined vocational education and quality research," stated Bhutia.
The faculty members from the department of Education discussed with the media on the feasibility of the NEP and how it will be beneficial to the country and its people. A major part of discussion included on regional language being promoted, different entry and exit points for students, online education as the current scenario involves and various other facades that the new education system will involve the students and faculty alike.
Assistant professors AnjuVerma, Aabriti Sharma and TJMSRaju deliberated on the various technicalities that the new education policy will usher across the country.