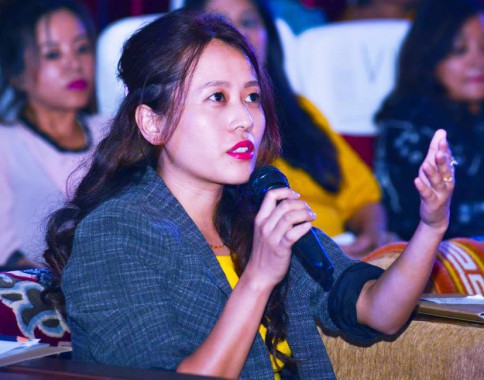 Thursday, Feb 25, 2021 07:00 [IST]
Last Update: Thursday, Feb 25, 2021 01:23 [IST]
Sikkimese filmmaker in IAWRT's showpiece event
Tribeny Rai's 'Yathawat' selected for 17th Asian Women's Film Festival
GANGTOK,: Tribeny Rai's short film 'Yathawat', which has already travelled far and wide, has been selected for the 17th Asian Women's Film Festival to be held online from March 5 to 7. It will have online screening of 33 films from 10 countries and virtual panel discussions.
The annual film festival is organised by International Association of Women in Radio and Television (IAWRT) India chapter. Due to coronavirus pandemic, the 17th edition would be held on a virtual mode where people can register at iawrtindia.org to watch the films and panel discussions online.
Tribeny, who hails from Nandok near Gangtok, has multiple award-winning short films to her credit since her learning days at the prestigious Satyajit Ray Film and Television Institute, Kolkata. Her two other short films 'Chhori' and 'Memory of a Heart' had been screened at the previous editions of Asian Women's Film Festival.
"There are few film festivals in the country that are dear to me. The Asian Women's Film Festival organised by IAWRT is one of my personal favourite film festivals. Held annually in the run up to the International Women's Day on March 8 by IAWRT, it holds a special place in my heart and I am delighted to take part," said Tribeny.
IAWRT India chapter aims to enable perspective building on issues faced by women media practitioners, while keeping a sharp focus on the changing media landscape, and work towards creating a space where women media practitioners can work without bias, discrimination or abuse. Asian Women's Film Festival is one of IAWRT's most important annual events.
'Yathawat' is 24-minute fictional short film in Nepali language which was released in 2015. It revolves around three sisters and their mother in Kolkata trying to secure a government job following the demise of their father as a dying in harness compensation. The film would be available online for the festival participants on March 7.
The same evening, Tribeny would be attending an online panel discussion on the theme 'emerging voices' with fellow filmmakers Prachee Bajania, Lam Yan Yu and Kshipra Shekhar Dhavle with Deepti Khurana as the moderator.
"I have been busy with production of a television series for Doordarshan and have not been able to work on new films. Despite this, the festival curator got in touch with me and suggested me to submit any of my previous films that resonate with current times," said Tribeny.