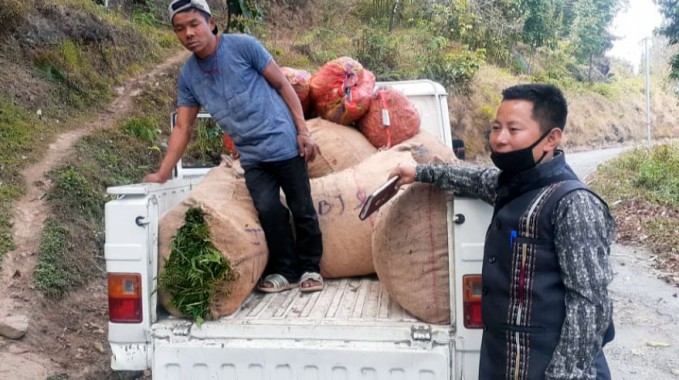 Sunday, Mar 29, 2020 14:15 [IST]
Last Update: Sunday, Mar 29, 2020 08:43 [IST]
SIMFED directed to ensure no shortage of veggies in Sikkim towns
BIJOY GURUNG
GANGTOK: The SIMFED, a State government undertaking, has swung into action to ensure that sufficient vegetables are available in the markets for the people during the 21-day lockdown.
The SIMFED was given the directives during a high-level meeting of the State government chaired by Chief Minister P.S. Golay on Friday.
"We have been given the responsibility by the State government to ensure that there is no shortage of vegetables in the markets of Sikkim by procuring vegetables from the farmers in the State or bringing it from Siliguri. We will be collecting vegetables from the villages through the Farmers Producers Organisations," said SIMFED managing director Pawan Awasthy to SIKKIM EXPRESS on Saturday.
Awasthy informed that work has already started in this direction and SIMFED personnel are coordinating with the FPOs and Agriculture department to procure and bring the vegetables from the farmers in all villages. Presently, vegetables like cauliflower, cabbage, radish, carrot and peas are ready to be harvested in the villages of Sikkim, he said.
Awasthy mentioned that the SIMFED is giving reasonable rates to the farmers of Sikkim considering that their vegetables are organically farmed. We are also requesting them to not to charge high given the present difficult situation, he said.
The SIMFED is also deputing its van to different suburbs of Gangtok where people can buy vegetables at their localities and do not need to reach Lall Bazaar.
There have been complaints of shortage of vegetables in localities away from the main town and highway since no vehicles are allowed to move during the lockdown. Considering these complaints, the SIMFED has been authorized to issue passes to limited number of vehicles, these vehicles will come to Lall Bazaar and purchase vegetables for their respective localities, informed the managing director.
The SIMFED is also involved in providing potatoes and onions in the relief food package to be distributed by the State government to the underprivileged people economically affected during the lockdown in the State. We will make arrangements to source and purchase the potatoes and onions from within and outside Sikkim for the relief food package, said Awasthy.
Awasthy also visited the cold storage unit, having a capacity of 500 metric tons, at Majhitar near Rangpo today afternoon.
The cold storage unit was under Commerce & Industries department and was handed over to SIMFED, as per the decision reached in the high-level meeting yesterday.
In case the present situation elongates, the SIMFED can store vegetables and other perishable food items at the cold storage unit.