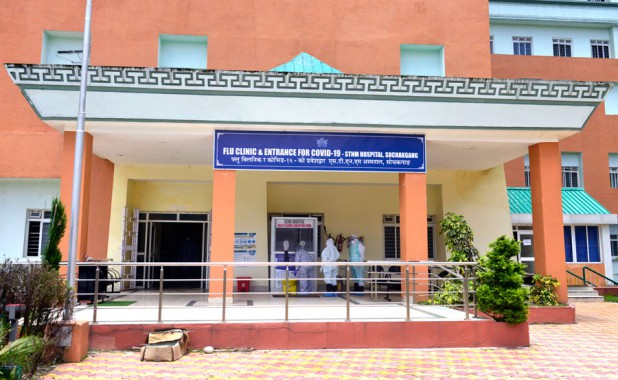 Monday, Aug 10, 2020 12:00 [IST]
Last Update: Monday, Aug 10, 2020 06:14 [IST]
Six new Covid cases, State's active tally is 371
Staff Reporter
GANGTOK: Six new Covid positive cases were detected in the State from the samples tested on Saturday by the Health department. The State's active cases tally is now 371, informed Health director general-cum-secretary Dr. Pempa T. Bhutia.
In his Sunday health bulletin, Dr. Pempa shared that among the new cases, one is a driver ferrying essential commodities into the State. The driver was found Covid-19 positive during the rapid antigen testing at Rangpo screening centre, he informed.
The five other positive cases were from the samples collected by the south health team. Two of them were from Rangpo IBM area and three were from Mamring.
Dr. Pempa informed that 24 patients were discharged from STNM hospital yesterday. Similarly, 14 were discharged from the isolation centre at SIRD, Karfectar near Jorethang.
So far, 494 persons have been cured and discharged in Sikkim after recovering from coronavirus.

Contained: The south district administration has put Microlabs Ltd pharma unit at Mamring under containment after detection of Covid-19 positive cases. The containment order was issued on Sunday.
As per the order, the factory is to be sanitised and sealed immediately and can be opened only after 72 hours with approval from the DC (south).
All the staff members working from within the factory premises are to be under strict home quarantine for 21 days in a designated quarantine centre institutionally managed by the company, as per the order.