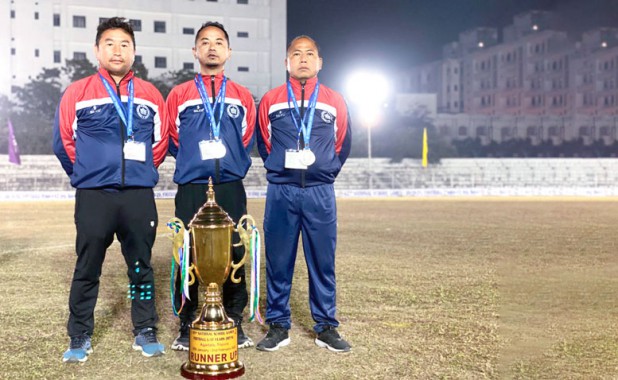 Friday, Feb 07, 2020 12:50 [IST]
Last Update: Friday, Feb 07, 2020 07:06 [IST]
SIX SIKKIMESE FOOTBALLERS IN AIFF RADAR
BIJOY GURUNG
GANGTOK: Names of six players of Sikkim team have been forwarded to the All India Football Federation (AIFF) based on their performances in the u-17 National School Games football tournament 2020 held recently at Agartala.
Sikkim was the runners up in the tournament after losing the final 0-1 against home team Tripura.
Speaking with SIKKIM EXPRESS today, State team coach Puspa Gurung informed that national selectors were present to witness the Agartala football tournament. "Names of our six players have been given to the AIFF for the national u-17 team and it was informed that the AIFF is also planning to send the junior squads for training in Europe. This is the kind of opportunities and benefits our players get if they play in national level football tournaments. We need to play in such national tournaments regularly so that our football talents get exposure and platform to become professional and international footballers in future," he said.
Sikkim had a wonderful run in the tournament, emerging as toppers from its group and then defeating stronger opponents on the way to the final. A total of 39 teams from all the States and Union Territories had taken part in the tournament.
Puspa informed that Sikkim was placed in Group E with Mizoram, Vidya Bharati, Andhra Pradesh and Uttarakhand. We qualified for the knockout round as the group topper, he said.
Sikkim defeated Kerala, Maharashtra and West Bengal to reach the final. It was the first time that Sikkim had reached the final of the National School Games football tournament.
"The team played beyond our expectations to reach the final. As a team, our players were mentally strong and hard working as seen in the pre-quarterfinal match against Kerala. We were trailing by two goals but our boys never gave up and found the equalizing goal. We went on to win the match on penalties," said the coach.
The entire team feels proud to have created a history for Sikkim by reaching the final and winning a silver medal in the National School Games, said Puspa.