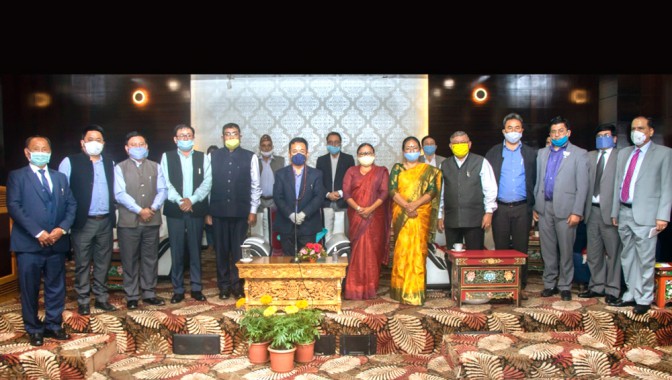 Saturday, Sep 19, 2020 13:15 [IST]
Last Update: Saturday, Sep 19, 2020 07:38 [IST]
SKM-BJP alliance has reached a turning point: Chauhan
SE Report
GANGTOK: State BJP president D.B. Chauhan has said the SKM-BJP alliance in the State has now reached a turning point in which the Chief Minister Prem Singh Tamang has shown his political tolerance and ideological maturity by including State BJP in the government.
"The Bharatiya Janata Party, the State and the central committee have also been positive in this regard. Taking the matter seriously, the Bharatiya Janata Party expresses its commitment to adhere the duty of alliance for the betterment of Sikkim and its people," said Chauhan in a media statement.
According to Chauhan, for the first time in the history of Sikkim, people are witnessing an alliance of ruling party of the State with the ruling party of the Center with a commitment of cooperation and to advance the development of the State in the coming days. "Despite efforts to form an alliance between the Bharatiya Janata Party and the Sikkim Krantikari Morcha before last year's assembly elections, however it was finally materialized during by-elections in October, 2019. In the Assembly by-elections, the coalition successfully contested the elections and won all the three seats by a huge margin," he mentioned.
Recalling the introductory organized by the State government to the newly appointed departmental advisors and chairpersons including BJP legislators and the party president himself, Chauhan thanked the Chief Minister and both BJP and SKM leadership for the historic initiative and assured that the State BJP is committed to this role.