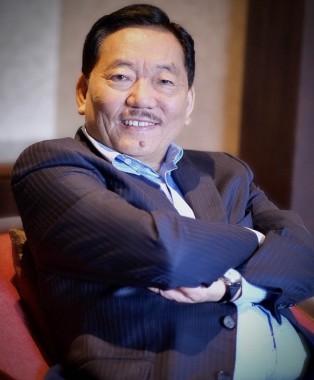 Monday, Jul 11, 2022 07:30 [IST]
Last Update: Monday, Jul 11, 2022 01:59 [IST]
SKM doing revenge politics by removing OFOJ employees: Chamling
GANGTOK,: Former Chief Minister Pawan Chamling on Sunday accused the SKM government of starting a "de-employment" programme by removing OFOJ employees from their jobs since taking charge on May 2019.
"I sternly warn the SKM government to stop de-employing Sikkimese employees right now and reinstate all those who have been removed from their jobs. I appeal to all the employees of Sikkim to voice their concerns together and not panic about their job security. We will deliver justice when we come back in 2024. Rest assured of this fact and stay focused on your jobs," said Chamling in his weekly press statement.
Chamling, in his statement, alleged that the SKM government is cruelly removing poor people from their jobs. "The SKM government has been removing people from their jobs, right from its inception in 2019. I have all the records. The government has also failed to disburse salaries on time," he said.
"Alright, we admit that they can't come up with an employment program, but in their foolishness and arrogance, they have gone further and started a de-employment program in the name of pariwartan which is totally an anti-youth, anti-Sikkimese people move. They are like monkeys who, not only cannot make their own homes, but also destroy others' houses, too. They can't tolerate the fact that the SDF government successfully implemented a nationally acclaimed, never tried before scheme like OFOJ," said the SDF president.
Chamling maintained that many youth who were contract workers in the previous government are going through a huge financial crisis and mental torture as their bills have been "deliberately withheld" due to "revenge politics" of the SKM government. "Many former SDF youth have started speaking the SKM language for their survival. I know their compulsion," he said.
The former Chief Minister contended that the CM start-up fund started by the SDF government has been scrapped. Luxury car permits have been given to hundreds of outsiders, he said.
"There has not been a single interview for regular government jobs in 3.5 years. During our governance, we used to conduct annual interviews for gazetted posts and monthly interviews for non-gazetted posts."
"The capacity building, started in 2003, was the first of its kind in India but is now gone along with its headquarters in Karfectar - sold to a private company. Nearly 50 livelihood schools which we had opened have now been closed."
Chamling reminded that the previous SDF government had started several youth-related programmes for capacity building, skill development and employment generation besides the regular creation of government job vacancies. Compare the one lakh government posts in 25 years under the SDF governance versus the removal of employees from government jobs by the SKM government with no job creation, he said.