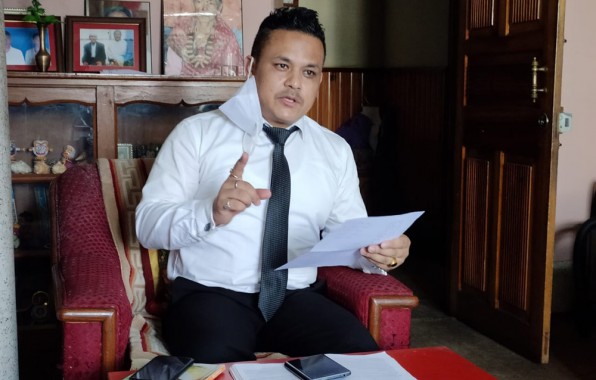 Wednesday, Oct 14, 2020 10:00 [IST]
Last Update: Wednesday, Oct 14, 2020 04:23 [IST]
SKM govt lacking action on ST status demand: Nawin Kiran
KUNAL RAI
GANGTOK:Socio-political activist Nawin Kiran Pradhan has expressed concern on the problems faced by the people of west district. Citing road connectivity as a major issue for rural areas in the district, Pradhan appealed to the State government to take proactive steps to develop road infrastructures in the district.
Pradhan, also the Sikkim Subject Committee (SSC) vice-convenor, today said, people appealed him to raise the issue of road connectivity, during his recent visit to the west district. He also demanded the State government to support the large cardamom farmers who are staring at losses due to low price for the cash crop.
Pradhan mentioned that apart from the common people and youths, the contractors informed him of the lack of funds as their bills had been withheld citing several reasons.
Stating that the ruling SKM is lacking action on the Scheduled Tribe demand for the 11 left-out communities, Pradhan said the SKM had pledged to make Sikkim a tribal State after including the communities in the ST list, but till date no such action has been taken.
"The government is not at all serious in this issue.It seems it was mere political assurance to come to power. The people of the State had voted the SKM with an expectation of Parivartan which it had assured in the election manifesto," Pradhan said. He added that the Assam government had been proactively working for granting ST status for Gorkhas while the State having Nepali speaking people in majority is silent.
"There are provisions in the Constitution by which the State government can approach the Centre government for availing tribal status. The government need to act and work with seriousness in availing tribal status to the 11 left-out communities and incase they lack they must step down and handover the government to us we will make it possible," he expressed.
Delving on the exclusion of college aspirants from admission in government colleges, Pradhan said not all are capable of studying in private colleges and paying fees. 'The ruling party before forming the government used to speak of quality education but today the scenario is such the students are being deprived of availing education due to poor planning and management. The government and the department must make all necessary facilities available to the students so that they are enrolled and get education of their choice," he said.