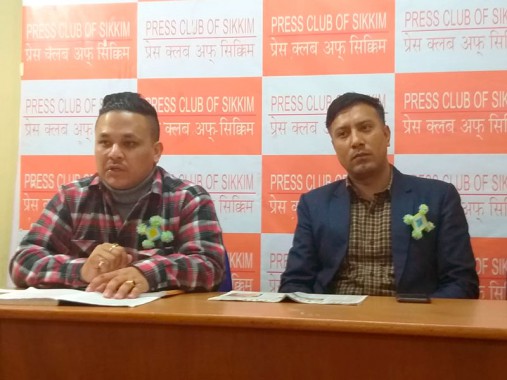 Tuesday, Dec 17, 2019 08:40 [IST]
Last Update: Tuesday, Dec 17, 2019 03:08 [IST]
'SKM lying to people on Citizenship Act'
DICHEN ONGMU
GANGTOK,: Launching a vitriolic attack on the SKM government for claiming Sikkim's exemption from the Citizenship Amendment Act (CAA), socio-political activists Nawin Kiran Pradhan and Passang Sherpa today accused SKM spokesperson Jacob Khaling of openly lying to the people of Sikkim claiming that the CAA will not be applicable in the State.
Addressing a joint news conference here, both Nawin Kiran and Passang condemned the SKM spokesperson for tagging Saturday's anti-CAA protest rally participated by Sikkim University students and others as anarchist and demanded his apology. "It is a huge disrespect to Sikkim University and discrimination to the students studying here from other parts of our region," they said.
Nawin Kiran is the Sikkim Subject Committee vice-convenor and Passang is the coordinator of 'I AM 371F' campaign.
"Concerned citizens and youths of Sikkim including students of Sikkim University had marched in solidarity protesting against CAA on Saturday. Jacob Khaling cannot divert from this issue by dragging the Northeastern students in it," said Nawin Kiran.
Khaling is sounding more like BJP's spokesperson these days, said Nawin Kiran. He further maintained that laws related to citizenship do not fall under Article 371F so the State government has no role to play in it. Once it gets implemented then we have no other choice but to accept it which is matter of great concern, he added.
Passang questioned on the verbal assurance made by Home Minister Amit Shah for Sikkim's exemption which the SKM spokesperson had highlighted.
"We can't rely and trust on verbal assurances. History speaks in Sikkim how the verbal assurances on Representation of People's Act and Companies Act never got implemented. Therefore, we demand written assurance stating Sikkim is exempted from CAA," Sherpa stressed.
He also highlighted that Khaling's statement is contradictory and confusing saying, "If Khaling is really confident about Sikkim not being affected by CAA under Article 371F then why did his party's MP voted against it in the Parliament?"
"If CAA is implemented in Sikkim then our demography will change and within no time the people under CAA will come into power due to their voting rights and majority population. The political leaders of Sikkim are only running after funds and budgets. They are not concerned about Sikkim, Sikkimese and their future," said Passang.