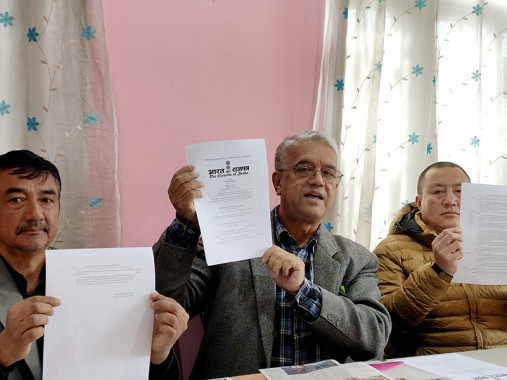 Monday, Dec 16, 2019 08:00 [IST]
Last Update: Monday, Dec 16, 2019 02:30 [IST]
SKM misleading people on CAA: Basnett
KUNAL RAI
GANGTOK,: Continuing his opposition against the Citizenship Amendment Act (CAA) passed by the BJP government at the Centre and the ruling SKM's claim of having secured immunity to Sikkim from CAA, State Congress president Bharat Basnett today hit back at the SKM saying the CAA gazette notification issued by the Union Home ministry has no mention of exempting Sikkim from the contentious legislation.
Citing the notification dated December 12, Basnett said it doesn't mention Sikkim as exempted unlike territories of States under Sixth Schedule and Inner Line Permit (ILP) regime like some territories of Assam, Mizoram, Tripura and Meghalaya.
"It is due to inability and inefficiency of the State government that Sikkim could not secure exemption. We are not misleading or misguiding the people as we are Sikkimese first and then a politician. Rather it is the ruling State government which is trying to fool the innocent citizens of the State with respect to CAA, which has been proved by the gazette notification. The implementation and extension of CAA to Sikkim as per the gazette is inevitable and this will definitely escalate influx which we as Sikkim are facing since many years. We need to act and implement the law of the land strictly like ILP," said Basnett.
The State Congress president further expressed that Sikkim should not be made a dumping ground and cautioned that the CAA, once enacted in Sikkim, will have severe impact on the State. "It is really easy for the Centre to enact the law in Sikkim as it is the only peaceful and Hindu-Buddhist dominated State in the entire Northeast region. The BJP government is taking undue advantage of the regional party in power in the State, due to its bow down attitude. It is high time for the State and its people to act in safeguarding the future of our State and protecting the special status under Article 371F of the Constitution," he said.
Basnett further questioned the timing and trial run of the Dhaka-Gangtok bus service saying instead of Bangladesh, such cross-border bus service could have been started with immediate neighbours like Bhutan or Nepal.