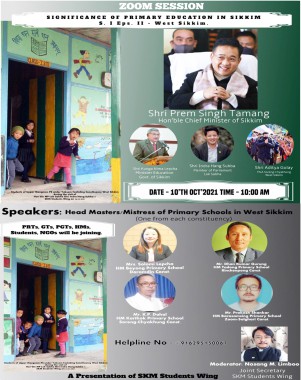 Wednesday, Oct 13, 2021 06:00 [IST]
Last Update: Wednesday, Oct 13, 2021 00:25 [IST]
SKM students' wing reaches out to school heads for feedback on primary education
GANGTOK,: The SKM students' wing is conducting Zoom sessions on the significance of primary education in Sikkim with the participants and speakers across the State. The webinars are being conducted episode-wise and the organisers have finished covering west district. Other districts would be covered after Dashain break, informs a press release.
Education minister K.N. Lepcha, Lok Sabha MP Indra Hang Subba and Soreng-Chakung MLA Aditya Golay are part of this initiative from the SKM students' wing.
Headmasters and headmistress of primary schools - one from each constituency will be the speakers of the Zoom session.
The first episode starting from West Sikkim was attended by the Education minister who interacted with the school heads and heard their talks which is indeed a "huge act of encouragement and concern", the release informs.
The Lok Sabha MP also marked his presence in all the sessions to take note of the opinions and comments of the headmasters and headmistress of different primary schools of West Sikkim.
The entire session is being recorded and the valuable inputs of the primary school heads shall be further compiled as a comprehensive report as an additional input support, said the organisers.
Nosang M. Limboo, a green activist and an authority in butterflies and birds of Sikkim, is the moderator of the online sessions. He is also the joint secretary of SKM students' wing.
The session is also being attended by Culture advisor Bhim Kumari Sharma, Housing board chairperson Karma T. Bhutia, APS (east) Tshering W. Lepcha and executives of SKM students' wing.
The online interactions with heads of primary schools have been initiated by the SKM students wing to contribute to the efforts made by Chief Minister P.S. Golay who has given top priority to the education and health sectors of Sikkim.
"The prime target of the Zoom sessions is to discuss the significance and importance of primary education in Sikkim and to prepare a comprehensive report which shall later be submitted to the concerned areas of approach like the Education department, the Education minister and the Chief Minister as an additional support to the concerned authorities who has been working tirelessly for the State in this subject," said the SKM students wing.
The sessions also collect first hand report on the primary education and needed reforms along with innovative ideas from primary school heads which will be placed further in needed areas with possibilities of implementation for the progress and development of the State, said the organisers.