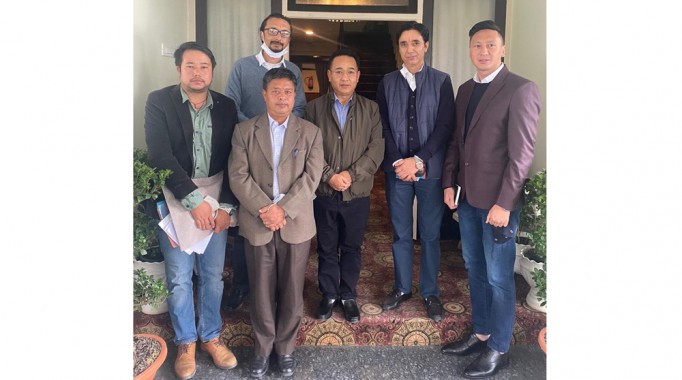 Friday, Nov 20, 2020 12:00 [IST]
Last Update: Friday, Nov 20, 2020 06:20 [IST]
SKM tourism wing calls on CM, seeks international status for Pakyong airport
SE Report
GANGTOK: A SKM tourism wing central committee delegation led by its president Lukendra Rasaily on Thursday met Chief Minister P.S. Golay at Mintokgang here and submitted requests for tourism development and welfare of tourism stakeholders of the State.
Urban Development minister Arun Upreti was also present in the meeting while the SKM tourism wing delegation had general secretary Sonam Norgay Lachungpa, secretary (State) Yankesh Panth and secretary (district) Arun Lemo.
The SKM tourism wing, at the meeting, informed that it would be soon visiting various tourist destinations of Sikkim to collect information and grievances of the tourism stakeholders. Requests were also submitted for ease of doing business at the meeting.
Lukendra Rasaily, also the STDC chairman, informed that the SKM tourism wing requested the Chief Minister to place a demand to the Centre for up-gradation of Pakyong airport to an international airport connecting Kathmandu, Paro and Dhaka. This will help in phasing out the mass tourism and introducing quality tourism, he said.
The other requests made included training, skill development and up-skilling of educated, semi-educated youth and existing tourism entrepreneurs of Sikkim, opening of Rambang entry and exit points for foreign tourists, and enhancement of adventure tourism in Sikkim highlighting south and west districts.
Fifty per cent discount for local tour operators in the entry fee fortrekking and expeditions andseparate quota of kerosene for trekking purpose in Uttarey and Yuksom were also requested.
We further requested the Chief Minister for sizeable fund for marketing, promotion and publicity in the pan Indian subcontinent basis and for South East Asia for immediate result, shared Rasaily.
"The Chief Minister provided us with guidelines to focus on the welfare of tourism stakeholders. He further added that tourism must percolate to the village areas also," said the SKM tourism wing president.

Pic: The SKM tourism wing executives with Chief Minister P.S. Golay.