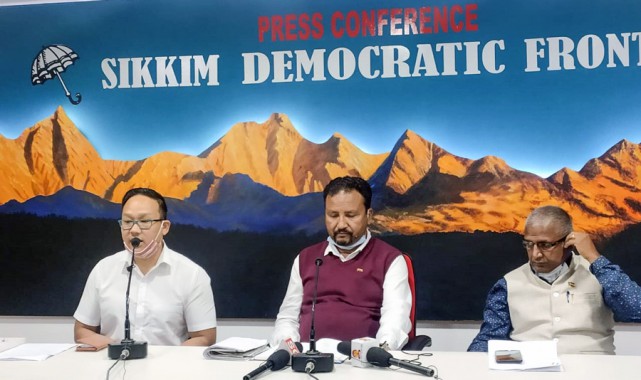 Friday, May 22, 2020 13:15 [IST]
Last Update: Friday, May 22, 2020 07:38 [IST]
SKMgovt unpopular, has lost trust: SDF
KUNALRAI
GANGTOK: The Sikkim Democratic Front (SDF) party has accused the SKM government of indulging in nepotism and failing to its decision to practice austerity measures in the wake of coronavirus crisis.
Citing the recent appointment of RajendraDhakal, son of Chief Minister's political secretary T.N. Dhakal, as an assistant scientific officer, days after the SKM cabinet decided to stop such appointments for six months, SDF publicity secretary Krishna Kharel today said the ban on all types of appointments was a welcome decision but the SKM government blatantly violated its own decision with the appointment.
"The SKM government has lost its trust at the grassroots for following such ethical practices which has started giving a wrong message to the people. The government is becoming unpopular for showing its dictatorial attitude. There may be other capable candidates but RajendraDhakal was appointed in violation of recruitment norms," said Kharel during a news conference at SDF office here today.
The SDF spokesperson further mocked the SKM for failing to its pre-poll promise of giving 30,000 government jobs saying even as a year has elapsed of forming the government, the SKM government has done nothing as promised.
Kharel also called on the State government to regulate and monitor overcharging by taxis on the pretext of carrying limited number of passengers to maintain social distance. He reiterated the party's demand to provide economic package to the taxi drivers and proper arrangements for stranded Sikkimese being brought to the State.
Spokesperson AshitRai claimed that there is some conspiracy in the State with respect to exercising fundamental rights guaranteed to citizens adding that free speech is being curbed. "If the government is really concerned then they must arrest the one who actually violates the freedom not the ones who shares," he said citing recent arrests over allegedly objectionable social media posts.
Commenting on the viral testing lab inaugurated at new STNM hospital today, spokesperson J.B. Darnal said the SDF party had been raising the demand and president Pawan Chamling had also submitted the demand before the Governor. Darnal lauded the State government and Governor for having established the much needed lab for testing coronavirus.
Darnal however slammed the SKM government for not declaring any relief for the laborers in the State claiming the Rs.300 to be provided to pharma workers engaged during the lockdown period is yet to be disbursed. He also echoed the need to extend relief for the drivers and proper arrangements to bring stranded Sikkimese people from outside the State. He pointed out that there was lack of preparedness in the evacuation process.