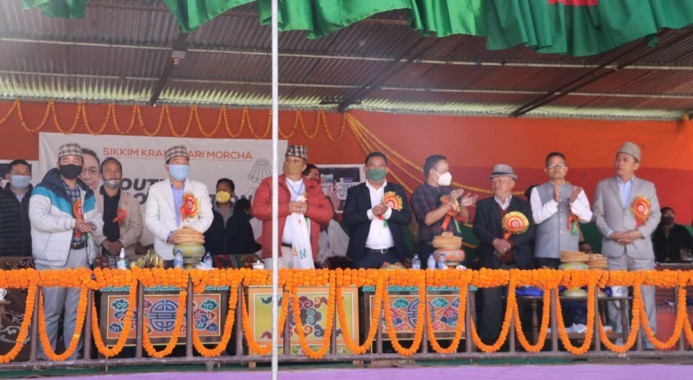 Tuesday, Nov 10, 2020 11:15 [IST]
Last Update: Tuesday, Nov 10, 2020 05:34 [IST]
SKMyouth coordination meeting starts in West Sikkim
PRITAM LAMA
GEYZING: The SKM, after concluding its youth coordination meetings in north, east and south districts, today started West Sikkim tour from Pelling under Yangthang constituency. The meeting at Pelling was held for Yuksam-Tashiding and Yangthang constituencies. The west district has eight constituencies.
The meeting chaired by Transport minister SanjeetKharel had the presence of SLA deputy Speaker and Yuksam-Tashiding MLA Sangay Lepcha and PHE minister and area MLA Bhim Hang Subba.
Minister Kharel, who is also the vice president of SKM youth wing, said the State government is likely to launch various schemes and initiatives for youth after the completion of the meetings. "SKM party is truthful and dedicated political party for Sikkim and its people unlike previous SDF party which always lied and misguided the youths. Every youth of the State will enjoy benefits under the SKMgovernment equally," said Kharel.
Accusing the SDF of disregarding west district, Kharel stated that West Sikkim will touch greater heights in terms of development under the able leadership of Chef Minister P.S. Golay.
Area MLA Bhim Hang Subba underlined how SKM government has prioritized the youth of the State. For instance, he said, majority of the newly-appointed chairpersons are young. "Giving opportunity to a youth like me to serve the people is another example," he said.
Subba informed that as per the direction from the Chief Minister, various departments are preparing schemes for the welfare of the youth.
Yuksam-Tashiding MLA Sangay Lepcha, in his brief address, called upon the youth of the State to take advantage of the opportunities created by the SKM government. He stated that the government is committed to fulfil all aspirations of youth and people of Sikkim.
Transport department chairman Basant Tamang, SIDICO chairman Janak Gurung, PHE chairman HariNarayanaSubedi, Sikkim Medicinal Plant Board chairman Mahindra Gurung, SKM youth wing president LakpaMoktan, youth wing general secretary PujanRai and SKM west district coordinator Nandu Gurung were also present.
Similar youth coordination meeting is scheduled to be held on November 11 at Soreng for Zoom-Salghari, Daramdin and Soreng-Chakung constituencies, and on November 12 at Sribadamfor Maneybung-Dentam, Rinchenpong and Geyzing-Bermiok constituencies.