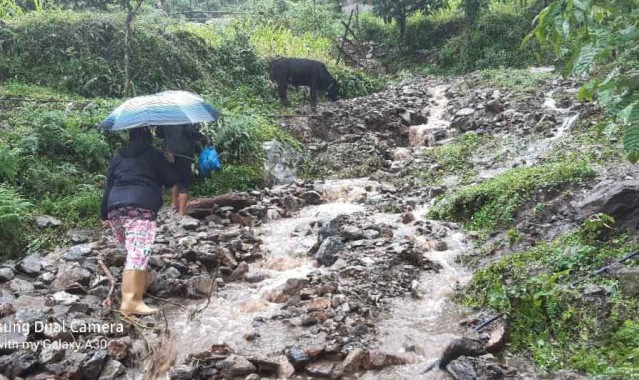 Monday, Jun 29, 2020 14:00 [IST]
Last Update: Monday, Jun 29, 2020 08:18 [IST]
Slides, rains disrupt normal life in West Sikkim
KUSH HANG LEEWANG
GEYZING: Continuous heavy rains have resulted in landslides, road blockages and damage to public and private properties in various parts of West Sikkim. At some sinking and landslide-prone areas, the local residents have gone to safer locations.
Normal life is affected in west district with people not moving out considering the heavy rains and landslides.
One under-construction CMRHM house at Timburbong, Soreng-Chakyung constituency has been damaged in a mudslip.
Slush from a landslide entered another house at the same village. The family members have taken shelter in another place.
Similarly, villagers of Tsong under Yuksam-Tashiding constituency are worried that the last year's flash flood may be repeated in the area. They had to move out to a safer location on Saturday considering the intensity of the rains.
Many families of Tsong had been rendered homeless due to the sudden flashfloods in November last year. The resettlement programme for the affected families of Tsong, as assured by the State government is yet to be initiated.
The villagers who have returned back to their native village fear for their life and safety as Tsong is prone to flashflood and landslides.
Road connectivity at some places of West Sikkim was also disrupted by the landslides. Pelling-Tashiding road is inaccessible due to massive landslide which created a blockade near Fambrong falls. Tashiding to Gerethang road is also blocked due to a landslide. Similarly, Reshi-Rinchenpong road was also blocked due to landslide but it was informed the road would be made trafficable by the evening.
The concerned department has deployed machineries and manpower to various landslide-affected locations of west district to clear the traffic.