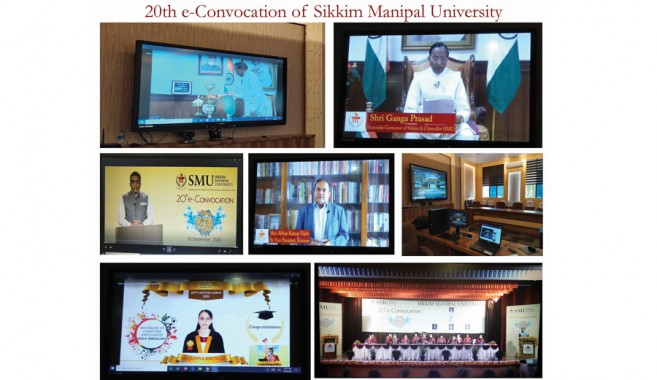 Sunday, Sep 27, 2020 11:30 [IST]
Last Update: Sunday, Sep 27, 2020 05:54 [IST]
SMU holds 20thConvocation on virtual platform
SE Report
GANGTOK: A total of 932students of Sikkim Manipal University (SMU) received their degrees in various multi-disciplinary graduate, post graduate and PhD programmes during the 20th e-Convocation of the university on Saturday.
The SMU for the first time in its history conducted itsconvocation virtually due to the constraints of the Covid-19 pandemic.
Gold and silver medal awardees, including students from the MBBS, MD, MS, B.Tech, M.Tech, BSc & MSc Nursing, Bachelors & Masters in Physiotherapy, Biotechnology & Business Administration, BCA, MCA, MSc Physics, Chemistry, Mathematics and other courses, including PhD scholars in various disciplines participated in the ceremony from the safety of their homes,as they were bestowed with their degrees and medals conferred on the online platform.
SMU Pro-Chancellor Rajen Padukone, in his welcome speech, expressed his gratitude to Sikkim Governor and SMU Chancellor Ganga Prasad for his valued guidance. He alsothanked the Stategovernment led by Chief MinisterPrem Singh Tamangfor thecontinued support to SMU and the State toachieve greater laurels.
He added "It gives me great pride in saying that SMU and its constituent units have quickly adapted to the challenges posed by the pandemic through online teaching, webinars and examinationsduring Covid-19 lockdowns and constraints. We have successfully added digital learning platforms to our existing methods of imparting quality education to our students."
Governor and SMU Chancellor Ganga Prasad, whopresided over the online function, congratulatedthe students, faculty, staff and management. "Since 1995, guided by the vision to achieve global leadership in human development and excellence in education and healthcare, Sikkim Manipal University has made praiseworthy achievements in its remarkable journey of over two decades," he said.
Earlier, SMU vice-chancellor Lt. Gen Dr. Rajan S. Grewal, while presenting the highlightsof the university, recounted the various momentous milestonessince its inception. He said "SMU is the first successful PPP model in higher education between the Government of Sikkim and the Manipal Pai Foundation".
"Today, we can proudly say that we have contributed significantly in the field of high quality education and specialised health care in Sikkim and the North East region of the country. 56 per cent of our employees are locals and the gender ratio is an impressive 52 per cent in favour of women employees.We have made significant strides in the field of research, innnovation and digitization," he added.
The chief guest on the occasion, Abhay Kumar Vaish, senior vice-president, head of business Unit MS IT & ADM, Ericsson Global India, in his Convocation address, talked about the various challenges faced by students and educational institutions across the globe, calling it 'unprecedented times.' He spoke about the virtues of courage, perseverance and loyalty that were essential in character building. He urged the students to give back to the society by being humble and grateful to all those who have contributed to their lives, in big or small ways.