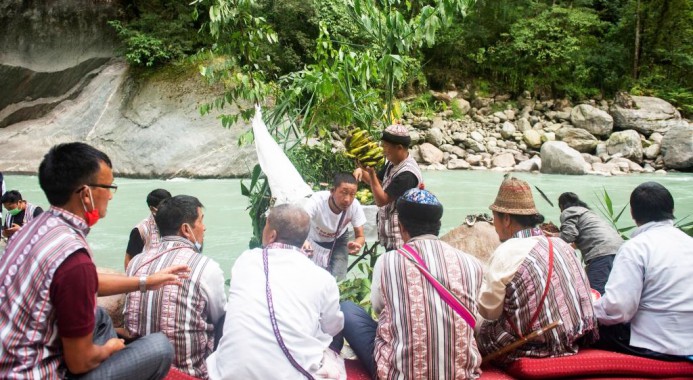 Friday, Oct 08, 2021 22:00 [IST]
Last Update: Friday, Oct 08, 2021 16:26 [IST]
SNS demands Teesta-IV HEP be scrapped
GANGTOK,: The Sikkimey Nagarik Samaj (SNS) has reiterated its demand for scrapping the Teesta Stage-IV hydel power project proposed in Upper Dzongu.
"Sikkimey Nagarik Samaj reiterates its demand of scrapping Teesta Stage-IV hydro power project and extends solidarity to our brothers and sisters of Dzongu in their quest. The protection and preservation of customs, traditions, environment and ecology is the prime duty of every Sikkimese people," said SNS general secretary Passang Sherpa in a press statement Friday.
"Beside the hydel project, the disturbing news of cow slaughter during the holy month of Dusshera has created angst among people. It is unfortunate to witness such incidents in a State ruled by BJP-SKM alliance. We urge the Governor of the State to initiate necessary action to curb such menace," said Passang.
"Furthermore, the negligence and carelessness of State government is evident by the fact that the general public, drivers, hawkers and parking contractors are going through a difficult time by the reckless decision of shifting south-west taxi stand overnight without any planning, arrangements and consultations with stakeholders. It seems that the government is more sympathetic to mall developer than general Sikkimese people," said the SNS general secretary.
"The incompetence of SKM-BJP led government is exposed with the fact that much hyped Su-Swastha Yojna was withdrawn as the company hired by State turned out to be bogus. The State has awarded many educational institutes, hydro projects and shopping malls to bogus companies having no credentials and have jeopardised the future of Sikkim."
"As such, Sikkimey Nagarik Samaj vehemently protests such illogical and illegal activities and urge the State government to immediately stop all the works awarded to bogus companies and provide opportunity to local entrepreneurs and contractors to take forward such projects and developmental works in the interest of Sikkim and its people," said Passang.