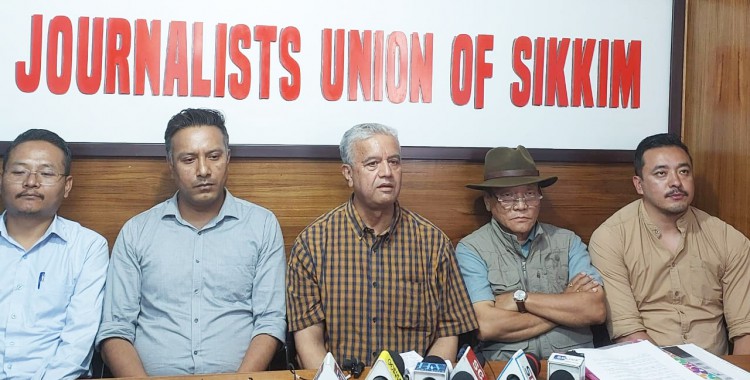 Sunday, Jul 03, 2022 09:00 [IST]
Last Update: Sunday, Jul 03, 2022 03:23 [IST]
SNS gives 3 days' ultimatum to State for taking action against CS
GANGTOK,: The Sikkimey Nagarik Samaj (SNS) has given an ultimatum of three days to the State government for initiating action against State chief secretary S.C. Gupta over the corruption complaint made by the Samaj.
Addressing the media here on Saturday, SNS president Bharat Basnet said the SNS had lodged a complaint with the Vigilance department against the chief secretary on his alleged corrupt activities. Even after one month of our complaint, no action has been taken by the State government against the chief secretary, he said.
"The allegations made against the chief secretary have not been denied by him. He has given only a clarification on the sale of his immovable property and the transaction that took place. He, through his clarification, has tried to mislead the government and the people," said Basnet.
Basnet maintained that Gupta sold his property of Rajasthan but used the stamp paper of Sikkim government. Also, he issued a stamp paper of Rs. 50 only for the land sale valued at Rs. 1.40 crore and he further violated the oath of secretary by showcasing a file endorsed by the Chief Minister, said the SNS president.
"We will no longer tolerate such a misleading officer to occupy a high status in the State administration. We demand immediate suspension of the State chief secretary and action as per law should be taken against him. Unless he is removed from his office, the Vigilance investigation against him stands to be compromised," said the SNS president.
SNS chief patron Tseten Tashi Bhutia said: "We want the rule of law to prevail in the State. It is really unfortunate that even after we have submitted enough evidence of corruption, no action has been coming from the government. We don't know whether the government will take appropriate action or not but we in the interest of Sikkim and Sikkim will do all possible to avail justice legally following the rights granted under the constitution."
SNS general secretary Passang Sherpa said the SNS is giving three days' ultimatum to the State government to take action against the chief secretary. Or we will stage protests on the roads and start a Satyagraha movement, he warned.
"We are neither trying to press the government or direct them with regards to their governance as they are in power with the people's mandate. However, we will raise our voice if there are any wrongful and unwarranted activities taking place that risks the safety and interest of Sikkim and Sikkimese," said Passang.