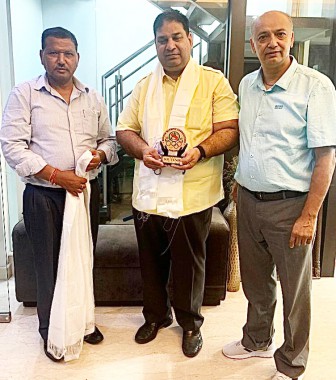 SOA president, GS meet IOA secy general
GANGTOK,: Sikkim Olympic Association president Kuber Bhandari and general secretary Jaslal Pradhan met Indian Olympic Association secretary general Rajeev Mehta in New Delhi today.
Kuber Bhandari gave a brief report to the secretary general about the promotion of games and sports in Sikkim. He also highlighted various interventions made by State government in the field of games and sports, informs a SOA press release.
The secretary general appreciated the initiatives taken by the State government and various activities carried out the SOA.
In order to develop sports infrastructure and for carrying more activities in games and sports, the IOC has released Rs.15.00 lakh to Sikkim Olympic Association, the release mentions.
The president and general secretary of Sikkim Olympic Association expressed sincere gratitude to Indian Olympic Association and requested for further support to produce Olympians from the State and extended invitation to the secretary general to visit Sikkim.