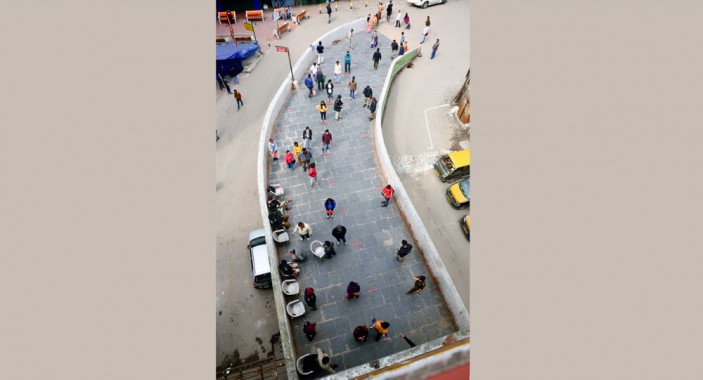 Thursday, Mar 26, 2020 12:15 [IST]
Last Update: Thursday, Mar 26, 2020 06:22 [IST]
Social distancing markers placed to avoid crowding
Lall Bazaar vegetable hawkers to function on alternate days

PANKAJ DHUNGEL
GANGTOK: Lall Bazaar, the major hub for grocery shopping in Gangtok, faced a commotion early Wednesday morning with shoppers indulging in panic buying. The same was cleared by Sikkim Police later in the day under the guidance of SP (East) Hari Chettri, Mayor Shakti Singh Chaudhary and Lakpa Sherpa, president of the Lall Bazaar Hawkers Association with the implementation of social distancing markers to allow 10-15 shoppers only to enter Lall Bazaar to shop at a given time.
Markers were painted on the pathway leading to the complex wherein each customer has to stand 1 m apart while waiting for their turn to enter.
The hawker's shops will also be opened alternatively depending on their shop numbers on alternate days.
A notification issued by the east district administration later in the day, also highlighted 'In order to minimize the movement of individuals outside their homes, delivery and transportation of all essential goods, pharmaceuticals, medical equipment, LPG cylinders, groceries, vegetables, fruits, milk and dairy products, meat, except cooked food shall be permitted with immediate effect. All haat bazaars which are held on a weekly basis in all bazaars and towns of the district stand suspended till April 15, 2020".
Mayor Shakti Singh Chaudhary highlighted how to avoid crowding the Gangtok Municipal Corporation and district authorities are making consideration on opening shops with alternate numbers on alternative days. He stated, "The hawkers at Lall Bazaar have complained how vegetables and fruits being perishable items will decay in the days to come. Altogether, there are 100 such hawkers who will be affected. Once their current stock is over, we are considering on setting alternate hawkers so as to maintain stocks for everyone and hawkers also do not get hampered in their business. We have urged them to not keep their children in shops."
On the social distancing for consumers, Chaudhary highlighted how the foot over bridge has been marked to curtail entry of consumers to Lall Bazaar shopping complex.
"The shoppers for groceries are certain to come with the vegetables and fruits being essential commodity, so we have allowed only a certain number shoppers to enter the shopping space at a time. The foot over bridge has been marked for distancing to curtail rush of people from entering Lall Bazaar. The limit will be of 10-15 people entering at a time with social distancing being maintained. If the same practice has an effect on social distancing, then we will issue coupons to shoppers at the entrance. The person entering will also have limited time to shop".
Over concerns of hoarding and rising prices, the Mayor asserted that a fixed price for essential commodities will be maintained. "The prices will be maintained by the district administration and the same will curtail the rise in price and also avoid wasting time on bargaining. There is difference in prices at the wholesalers and retailers, while prices are changing even in Siliguri from where other essential commodities are imported, so with regards to changing prices in Siliguri, the price rate here in Sikkim will also be changed as per needs. We request people to buy as less as possible so as to abide to five to six days before they decay".
Lall Bazaar Hawkers Association president Lakpa Sherpa informed that following the ruckus in the morning despite their request for social distancing, the shoppers crowded early morning, forcing them to take aid of Sikkim Police.
On the supply of perishable essential commodities, Sherpa stated, "We had ordered for supply from Siliguri on Monday but the same reached only on Wednesday morning, given the current situation we may not order for more as vehicles are not being allowed to come. There has been no stoppage on local groceries and they are being brought by the hawkers."
SP (East) Hari Chettri highlighted how with the late night notification and the first day of lockdown being imposed, public being clueless. "There was some confusion with police and administration with the first day, but normalcy will come through in days to come. The public safety has been upheld but it is the public who have to equally consider on their safety. If they cooperate, the benefit will be for them, we have been regulating crowding in Lall Bazaar and medical shops. There was a lot of crowding in Lall Bazaar, to decongest we will be sending consumers in batches of 40-50 people. On hiking of prices, Gangtok Municipal Corporation will maintain the price board with display, the same is being prepared," he said.
However, away from the main town area in places away from the National Highway, some people were seen gathering to make merry, playing cards away from social distancing, while shops in such places also remained mostly open. "Police is unable to reach every nook and corner and cheating their orders, people are making celebration and gathering. But they must know it is for their safety and take responsibility. We are working as per information we are receiving, tomorrow can be a better day with a meeting to take place within the police fraternity ensuring perfection as days come," said Chettri.