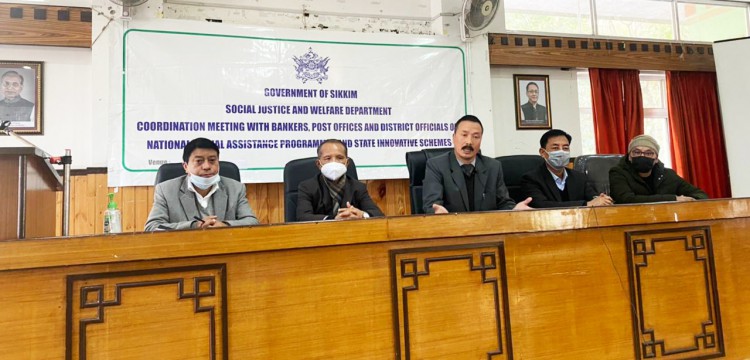 Friday, Feb 19, 2021 08:15 [IST]
Last Update: Friday, Feb 19, 2021 02:46 [IST]
Social Welfare dept takes up problems faced by NSAP beneficiaries
ISABELLA GURUNG
GANGTOK,: Social Welfare secretary Tsewang Gyachho held a meeting on Thursday with banks, post offices, stakeholders and departmental officers regarding problems faced by National Social Assistance Programme (NSAP) beneficiaries in Sikkim. The meeting was held at the conference hall of Social Welfare department at Lumsey here.
"Approximately 31,000 beneficiaries are benefitting under NSAP schemes that include old-age pension, disability pension, widow pension, unmarried and subsistence allowance schemes with a total amount of Rs. 5.60 crore per month. We had been receiving complaints stating that approximately 350 beneficiaries were not receiving the money and so a meeting was called today. After discussion, it was found that the money was getting bounced back due to various reasons including inactive and dormant bank accounts," informed Gyachho.
The meeting came to a conclusion to appoint inspector level guardian inspectors and officer level guardian officers from the department to cover all the concerned GPUs in the State. The guardian inspectors and officers will come back with the problems to the banks so that the issue can be tackled swiftly.
The department urged the concerned persons to take the issue to the panchayats and be more proactive. The department has discussed on making the schemes error-free within 90 days.