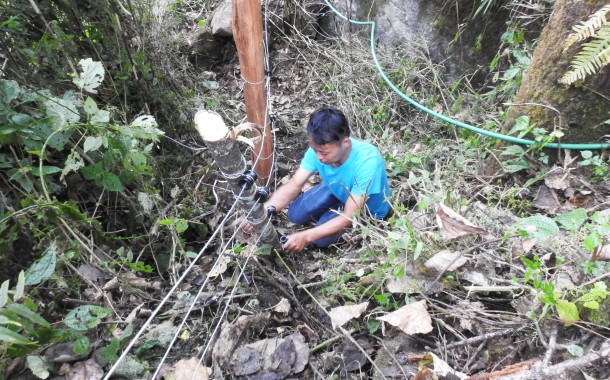 Friday, Oct 08, 2021 21:00 [IST]
Last Update: Friday, Oct 08, 2021 16:21 [IST]
Solar fencing initiated to curb wildlife depredation
GANGTOK,: To address the issue of human-wildlife conflict, WWF-India, Sikkim under UNDP-SECURE Himalaya Project of the Forest department has installed solar fencing in private farmlands in two villages which had high conflict with wild animals.  
Chongri village in West Sikkim is located right on the boundary of Khangchendzonga National Park and has main conflict animals as barking deer, wild boars, and porcupines. Bitchu village in Lachung, North Sikkim has the Himalayan black bear as the main conflict animal. In both these villages, the main routes that the wild animals use to come into the farm land were identified for the fencing.
The fencing approximately covers an area of 0.2 hectare of farmlands on three sides in the two villages, a press release informs.
These sites were selected after meetings with the owner of the farmland, Forest department and UNDP-SECURE Himalaya Project officials and based on human-wildlife conflict assessment conducted as part of the SECURE Himalaya project by ATREE, the release informs.
The entire solar fencing work was carried out by local youths from Talkharka village in East Sikkim, Sewan Rai and Navin Rai, along with WWF-India team Pemba Tshering Bhutia and Rikchen Zimba. These youths were trained by WWF- India as part of an earlier intervention in Talkharka for human wildlife conflict management.
Sewan Rai mentioned that the earlier pilot project conducted in Talkharka had proved beneficial for the communities with a reduction in crop loss to wild animals such as porcupines and barking deer. They were happy to have got the opportunity to expand the solar fencing initiative to other villages that were also suffering from the same challenges.
In Sikkim, communities who depend on agriculture, agro-forestry and animal husbandry as their main source of livelihood are severely impacted from wildlife depredation. Crop raiding by animals such as wild boar, black bear, barking deer, monkeys, civets, peafowl and more has reached such heights that in some instances, farmers have called off agriculture, leading to significant drop in household income.
In a study conducted by WWF-India, villages situated in the fringes of three sanctuaries, revealed that crop damage ranged from 10% to as high as 64% of the estimated yield across crops such as maize, potatoes and legumes. The nature of conflict is complex and layered and is often overlooked which cause a considerable economic loss to the farmers, further damage to property, attacks on livestock as well as humans, particularly by bears, which is on the rise.
After the installation of solar fencings, training was also imparted to the owners of the farmland on basic maintenance and monitoring of the same. Close monitoring results on the conflict post installation of the fence would be an important data to understand the impact of solar fencing, based on same the fencing work can be scaled up in future. WWF-India has been working with communities and the relevant departments to manage conflict and reduce the income loss suffered by farmers, the release mentions.