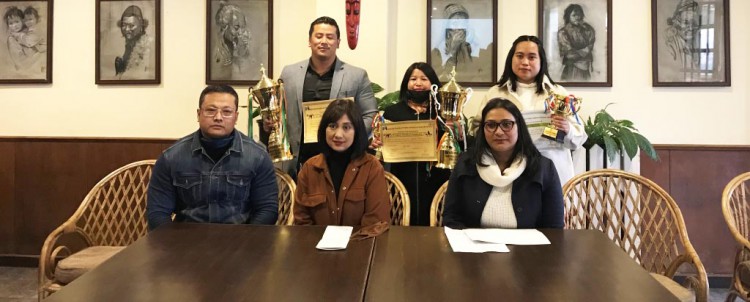 Monday, Feb 08, 2021 07:30 [IST]
Last Update: Monday, Feb 08, 2021 01:57 [IST]
SPA thanks State, participants for success of powerlifting championship
DICHEN ONGMU
GANGTOK,: The Sikkim Powerlifting Association (SPA) have expressed their gratitude to the State government and the participants for the grand success of the recently held 1st Junior & Senior Men and Women Powerlifting championship at Arithang here.
Addressing a press conference here on Sunday, SPA president Devendra Basnett informed that it was record breaking participation after the lockdown.
"The event had to be carried on until the wee hours as the turn-out was unexpectedly high. The credit for the success of our first event goes to the State government. Without their support this event would not have been possible and also the participants whose participation added cherry on the cake", said Basnett.
Basnett shared that five participants have been selected for the senior nationals powerlifting championship to be held in Coimbatore from February 17 to 21. We have also shortlisted the players for junior nationals but have not finalised the list yet as they are all students and have not given a nod for the championship, he said.
Sukmit Lepcha, 1st Iron Woman of Sikkim from Namchi gym, expressed that she was overwhelmed to win the title in her debut.
"This was my very first competition of my life. I did not participate to win so the victory added meaning to the interest I have for powerlifting. I am thankful to my coach Sanjit Rai for his guidance and motivation", expressed Sukmit.
Lalit Rai, 1st Iron Man of Sikkim from White Hall Gym, shared how he has been associated with powerlifting the past many years and has also bagged titles in his weight category. However the overall champions title is his first and is special at the same time.
"I want to continue in this sport and make a mark in national and international competitions in days to come," said Lalit.
Premit Lepcha, State record holder from BarBell gym thanked her gym members for being an inspiration to her and recognising her potential which motivated her to participate in the competition.
"It was altogether a new platform and experience for me. Being a doctor, gym is my hobby but through this win of mine, if I have been able to inspire even a single female then that is my biggest accomplishment", said Premit.