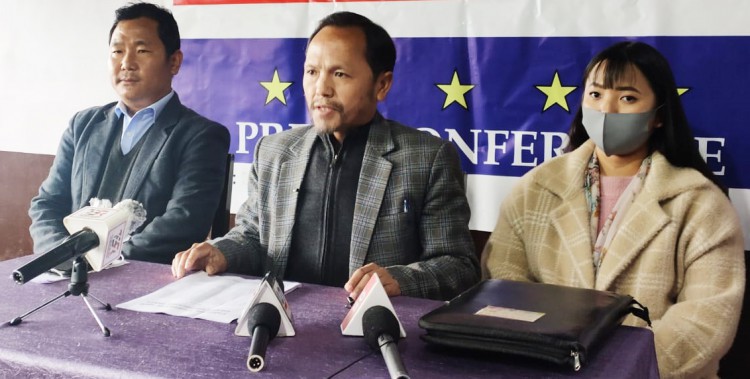 Sunday, Jan 17, 2021 08:00 [IST]
Last Update: Sunday, Jan 17, 2021 02:26 [IST]
SRP reminds SKM about its electoral promises, wants CBI entry on a priority
GANGTOK,: Sikkim Republican Party (SRP) president K.B. Rai on Saturday demanded the State government and Centre to fulfil the long pending demand of tribal status for the left-out ethnic communities of Sikkim.
Speaking to media here, the SRP president said the SKM government recently adopted a government resolution in the Assembly seeking inclusion of the 12 communities of Sikkim into the Central ST list. The BJP government at the Centre had also promised to fulfil several demands of the Nepali speaking community, he said.
Rai also expressed his doubts that the BJP could be using the tribal status demand card in the upcoming West Bengal Assembly elections.
"In the 2014 elections also, the BJP had made several promises to the people of the hills but till date, nothing has been done. We feel they could be just doing propaganda to get votes as the Bengal elections are coming. If the Centre had a strong will to extend the tribal status, they could have place a bill in the Parliament. Facilitating tribal status needs to be endorsed by the Parliament," said the SRP president.
"The left-out communities of Sikkim have been ignored on many occasions in past regarding the tribal status. This time again if they are left aside then the State government will be responsible," said the SRP president.
"The ruling SKM claims that the government resolution was 'historic' but it is not so. If tribal status can be achieved by merely passing an Assembly resolution then it could have been done by the past government. If the government really wants to do something historic then it must initiate action for restoration of lost Nepali seats in the Sikkim Legislative Assembly, facilitate Limboo-Tamang seat reservation and include Sherpa community in the Land Revenue Order No. 1," said Rai.
"Many promises were made by the SKM before coming to power which were included in their election manifesto. None have been fulfilled even after the passage of two years of forming the government," said the SRP president.
Rai pointed out to the SKM promise of allowing CBI investigations into Sikkim regarding corruption allegations. People of Sikkim are waiting for the day when CBI enters Sikkim and the corrupt are investigated and punished, he said. We demand the entry of CBI is considered on a priority, he said.