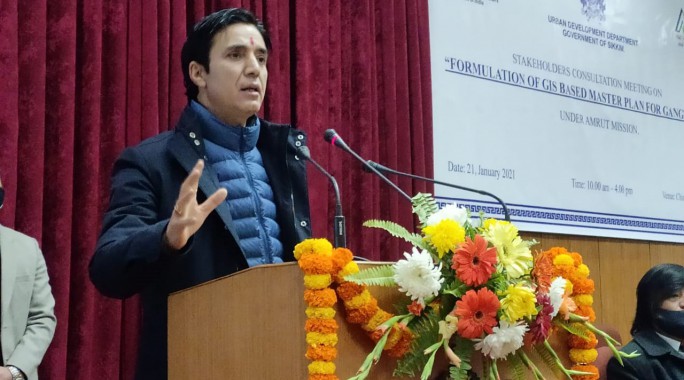 Friday, Jan 22, 2021 07:45 [IST]
Last Update: Friday, Jan 22, 2021 02:16 [IST]
Stakeholders' consultative meeting on GIS Master Plan for Gangtok
KUNAL RAI
GANGTOK,: The Urban Development department on Thursday held a stakeholder's consultation meeting for formulation of GIS-based Master Plan for Gangtok City-2041 under Atal Mission for Rejuvenation and Urban Transformation (AMRUT) Mission.
The consultation meeting at Chintan Bhawan here was attended by Urban Development minister Arun Upreti as the chief guest, Gangtok MLA Y.T. Lepcha, Tadong MLA G.T. Dhungel, concerned officials and local stakeholders.
In his address, the Urban Development minister said the AMRUT Mission extended to Sikkim by the Centre is important and necessary. We all need to come together for the successful implementation of the scheme so that people benefits, he said.
"Gangtok has changed drastically in the past two-three decades while the development that has taken place is unplanned. Due to this, it is difficult to even commute to some areas in the town," said Upreti.
Upreti added that the development and growth of Gangtok looks beautiful from outside but people living in the capital know the actual problems. This happened due to outsourcing the development of plans and non-consultation with the local stakeholders, he said. He requested the stakeholders present to share their suggestions in making the GIS-based Master Plan a success so that the future generation benefits.
"Let all the plans be area-specific and Gangtok feasible. Let Gangtok not just look beautiful from outside but also from within and throughout," said Upreti. He also stressed on the bottlenecks such as transportation, drainage system and emphasised on further development and beautification of residential buildings and surrounding areas.
Earlier, Additional Chief Planner, Town and Country Planning Organisation, MoUHA, Udit Ratna shared a brief on the importance of AMRUT Mission. He mentioned that this mission has three components including the GIS-based Master Plan being discussed today.
Once the master plan is prepared on the GIS-based Master Plan, all the developmental activities will be easy, accurate and beautiful, said Ratna.
In her welcome speech, Urban Development secretary Sarala Rai informed the stakeholders on the AMRUT Mission and its importance to Sikkim, particularly to Gangtok. She requested all present to contribute maximum suggestions and inputs in making the draft master plan a success.
Chief Town Planner Yogita Rai gave a brief information about the GIS Master Plan which is 100% funded by the Central government. She stated that Gangtok is one of the 500 cities selected under this mission. It covers an area of 157 sq.km covering a planned development of drainage system, transportation and infrastructure for Gangtok-2041.