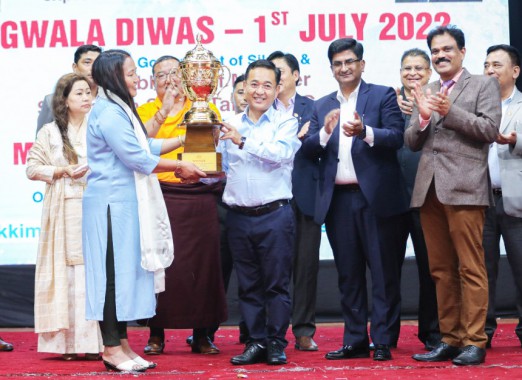 Sunday, Jul 03, 2022 09:00 [IST]
Last Update: Sunday, Jul 03, 2022 03:22 [IST]
State award for progressive dairy farmer Meena Rai
KUNAL RAI
GANGTOK,: Meena Rai of Suntaley Milk Producers Cooperative Society, Pakyong district, was conferred the 'Milk Man/Woman of the Year 2021-22' award during the Gwala Day celebration at Manan Kendra here on Friday.
Chief Minister P.S. Golay handed over the award to Meena who presently supplies around 400 litres of milk daily to the Sikkim Milk Union.
Speaking with SIKKIM EXPRESS, Meena expressed her happiness and honour to receive the highest award of the State in the field of dairy farming. She thanked the Chief Minister, the State government, and the minister and officials of Animal Husbandry and Sikkim Milk Union.
"I ventured into dairy farming in 2019 with three mulching cows and lately I have 30 mulching cows which provide milk daily. I supply 400 litres of milk daily to the Sikkim Milk Union and the highest daily supply was 450 litres," shared Meena.
Meena added that a good number of manpower is required to take care of the large herd of cows. She has engaged five persons to help her to take care of the dairy farm.
"The average rate that I currently fetch per litre of milk is Rs. 41-Rs. 42. I am hopeful in days ahead, the same will be revised and the rates will increase," she said.
Meena's husband and son are engaged in business while her two daughters are studying.
The progressive farmer welcomed the government's incentive of Rs. 8 per litre of milk to the dairy farmers. She expressed that the incentive should be released on monthly basis instead of an interval of 2-3 months to meet the timely requirements of the farmers. We are hopeful that the government and the department will make proper arrangements for monthly disbursal of incentives for the holistic development of dairy sector in Sikkim, she said.