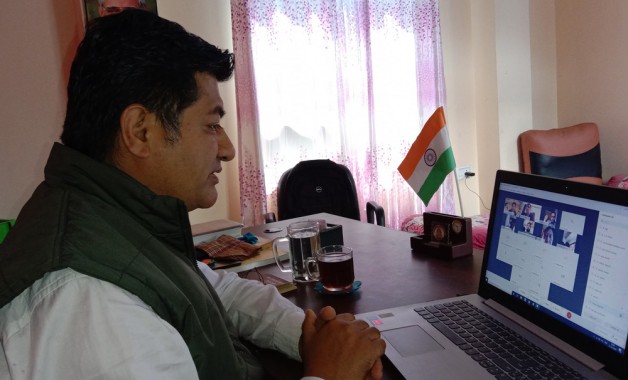 Monday, Sep 28, 2020 10:30 [IST]
Last Update: Monday, Sep 28, 2020 04:51 [IST]
State BJP holds virtual meet on Aatmanirbhar Bharat
SE Report
GANGTOK: The State BJP unit held its virtual meeting in presence of State president D.B. Chauhan, MLAs D.R. Thapa and S.T. Venchungpa and party functionaries from the State, district and constituency levels today. The meeting was focused on the Aatmanirbhar Bharat and how entrepreneurs in the Stateare benefiting from it and the obstacles that stand in the way of reaping the benefits, a BJP release informs.
Addressing the meeting, legislator D.R. Thapa of Upper Burtuk constituency informed that he has so far initiated to provide loans to more than 50 beneficiaries of Burtuk constituency through MSMEs and various other means under Aatmanirbhar Bharat. He informed that the process is underway for more than 150 others. He said the scheme would be successful in Sikkim if entrepreneurs from other constituencies of the State could easily avail loans through banks and financial institutions and the people's representatives could take the initiative.
MLA Thapaalso shared his experiences and solutions to the queries raised by various speakers in the meeting. Hementioned that loans can be easily obtained through MSME in urban areas and NABARD in rural areas.
State BJP president D.B. Chauhan, while addressing the meeting, said entrepreneurs could revive their business by availing easy loans through Aatmanirbhar Bharat package launched by Prime Minister Narendra Modi for the economically distressed entrepreneurs due to Covid-19 pandemic. Stating that the role of the people's representatives will be important for this, he said all the legislators and party functionaries should take initiative on this. Individuals and institutions willing to do business with sincerity can take the initiative for the benefits by contacting their legislators in their respective constituencies, he said.
Chauhan appreciated the initiative taken by MLA Thapa and called upon other people's representatives to work in the interest of the people of their constituency by getting information about loan process from him.
State BJP treasurerKailash Agarwal also addressed the meeting and discussed various aspects of Aatmanirbhar Bharat.
On the occasion of Pandit Deendayal Upadhyaya Jayanti (September 25) and Gandhi Jayanti (October 2), BJP is holding a weeklong special programme on Aatmanirbhar Bharat and 'Vocal for Local'campaign through virtual meetings. The party will take the initiative to extend the benefits of the Aatmanirbhar Bharat package to the stakeholders by organizing such programmes during this period, the release mentions.