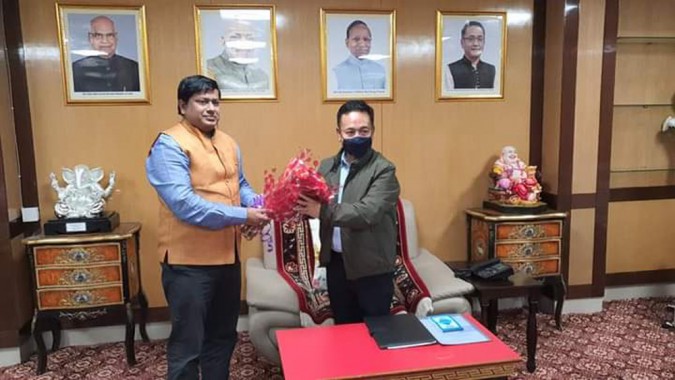 Monday, Nov 23, 2020 16:00 [IST]
Last Update: Monday, Nov 23, 2020 10:24 [IST]
State BJP in-charge arrives for Sikkim tour, calls on CM
SANJAY AGARWAL
RANGPO: Sukanta Majumdar, the newly appointed State BJP in-charge, today arrived in Sikkim for a three-day tour. He is also the Lok Sabha MP from Balurghat constituency, West Bengal.
State BJP president D.B. Chauhan and party functionaries were present at Rangpo to welcome the new Sikkim BJP in-charge.
Speaking with this correspondent, Majumdar said he would be attending meetings for strengthening the party's organisation in Sikkim. He said he would work towards fulfilling the pending demands of the State.
Regarding the 2021 Assembly elections in West Bengal, the MP shared that developmental track record at national level under Prime Minister Narendra Modi would be the main agenda for the Bengal elections. He asserted that the BJP will win the Bengal elections and form the government.
A State BJP release adds that Majumdar took part in a meeting with State unit executives at the BJP party office in Singtam. He took details about the political and other important issues of Sikkim and also on taking forward the party organisational activities.
Later in the day, the State BJP in-charge along with the State BJP president called on Chief Minister P.S. Golay at Mintokgang. During the meeting, deliberations were held on political and contemporary issues and to further strengthen the alliance between SKM and BJP, the release informs.
On Monday, Majumdar would be holding meetings with party workers at Singtam party office and later in the evening, would call on Governor Ganga Prasad, informed the State BJP.