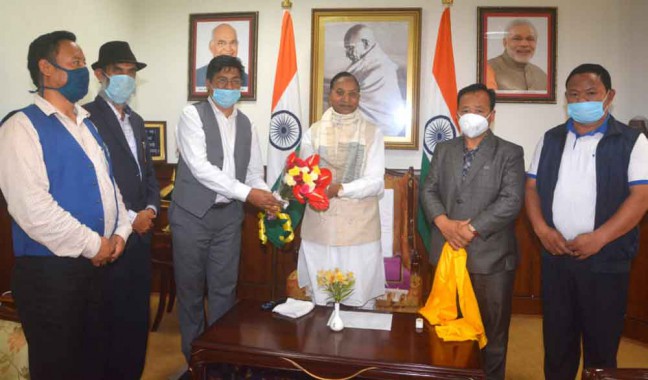 Sunday, Jun 28, 2020 14:30 [IST]
Last Update: Sunday, Jun 28, 2020 08:41 [IST]
State BJP press for coordination with SKM government on pending issues
SE Report
GANGTOK: State BJP president D.B. Chauhan led a party delegation to call on Governor Ganga Prasad here at Raj Bhawan. The State BJP delegation discussed with the Governor on social, political and economic issues of Sikkim along with Covid-19 situation, informs a State BJP press release.
On the occasion, the State BJP submitted a representation to the Governor regarding the initiatives of the State government against Covid-19 and has also appreciated the active role played by the State government and the Raj Bhawan.
The release adds that the State BJP also highlighted the political issues of Sikkim with the Governor. The issues include Assembly seat reservation for the Limboo and Tamang communities of Sikkim, tribal status demand of the 11 left-out communities, and protection of Article 371F.
The need for proper coordination between the government and BJP to implement the Central schemes and provide packages under 'Aatmanirbhar India' to the people of Sikkim was also pressed before the Governor. It was submitted to the Governor that the State BJP is committed to the alliance made with the SKM during the 2019 bye-election and the issues that requires joint efforts.
As per the release, the Governor gave positive assurance on all the issues adding that coordination between State government and BJP party is important in the interests of Sikkim and its people. He directed the State BJP delegation to work together with the State government on all the pending issues.