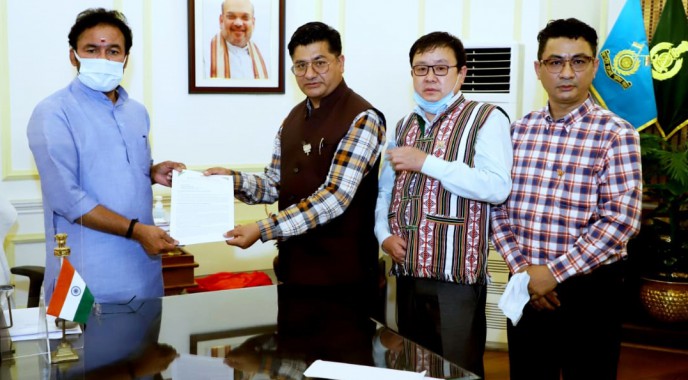 Wednesday, Feb 24, 2021 07:00 [IST]
Last Update: Wednesday, Feb 24, 2021 01:20 [IST]
State BJP submits memorandum on pending demands of Sikkim
GANGTOK,: State BJP president D.B. Chauhan on Tuesday met Mos (Home) G. Kishan Reddy at New Delhi and submitted a memorandum listing the pending demands of Sikkim.
Chauhan was accompanied by party MLA Y.T. Lepcha and coordinator Sudip Pradhan, informs a State BJP release.
The memorandum seeks tribal status of the left-out communities of Sikkim, Assembly seat reservation for the Limboo and Tamang communities and fulfilment of other pending demands. It was also submitted that the SKM-BJP alliance State government had adopted an Assembly resolution regarding the tribal status demand on January 11.
The Home ministry was also urged for early solution to the Limboo-Tamang seat reservation issue as it has been 18 years that the two tribal communities have not got reservation in the Sikkim Legislative Assembly.
In their memorandum, the State BJP has informed the Home ministry about issues related with Article 371F protection coming up regularly. The party has expressed its confidence that the special Constitutional provision will remain secure and sought that the pending demands of Sikkim are resolved without affecting Article 371F.
As per the BJP release, the MoS (Home) gave a positive assurance to the memorandum and assured that the pending demands of Sikkim would be gradually addressed. He also mentioned that BJP is committed to protect Article 371F.