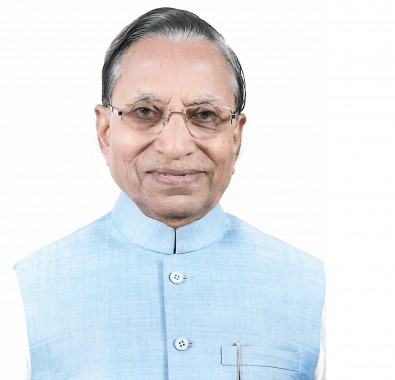 Tuesday, Jan 26, 2021 08:00 [IST]
Last Update: Tuesday, Jan 26, 2021 02:29 [IST]
State Govt effectively overcame Covid challenges: Governor
GANGTOK,: Governor Ganga Prasad has said the Sikkim government effectively overcame the challenges and hardships posed by Covid and lockdown in 2020.
"It gives me immense pride to say that we have overcome the challenges and hardships faced, effectively. The State government, through all the hardships caused by the nationwide lockdown imposed to combat Covid-19, has efficaciously maintained the delicate balance of safeguarding the people from the infectious virus while ensuring economic stability of the State."
"The State government has been performing phenomenally well and there is no deficit of salaries to be dispensed while every single formative plan and undertakings of the State government have been taken up in its right earnest," said the Governor in his message to the people on the occasion of 72nd Republic Day.
Prasad shared that the State government took "timely and prompt actions" towards combating coronavirus which includes setting up the viral lab at STNM Hospital and free tests and treatment. He highlighted that there has been a remarkable improvement in the health sector by strengthening the infrastructure and addition of medical super specialists besides a manifold increase in fund allocations for procurement of medicines and consumables.
"Dialysis centres are now fully functional at Geyzing, Namchi and Gangtok. New ICUs are also operational at Geyzing and Namchi Hospitals. Geyzing hospital now operates a 10-bedded ICUs hospital as well as a new TB hospital and a Blood Bank."
In his message, the Governor also listed the developments taking place in the education sector with introduction of some key initiatives.
"Smart android TVs are to be provided to the students studying in classes VIII, IX, X and XI in the State government-run schools to access audio and video contents prepared by multiple sources including Education department. Apart from accessing various e-contents, students will also be able to watch 'Swayam Prabha' TV educational channels," said Prasad.
The Governor shared that the State government is creating more road networks in Sikkim to connect each and every village, school, health centre, bazaar and important tourist and religious places. Infrastructure such as tunnels, foot over bridges, fly-overs, etc. as alternate mode of transportation is also being planned, he said.
"With regards to the issue of traffic congestion in the capital, the State government has deliberated on a number of ways aimed at curbing the menace. A new road has been built to be made operational from Adampool to Banjhakri falls. Another small road from Shyari will connect Jalipool/Ranipool.
"The State government also proposes to construct a 13-km cable car and four tunnels from Rangpo-Ranipool-Tadong-Gangtok to ease the pressure of traffic and commuters on the highway. The State government is further looking towards developing perennial routes with reduced distance and travel time between strategically significant areas by building tunnels along various locations throughout the State," said the Governor.
The Governor highlighted that the State government has formulated policies that are women-centric and lays priority on uplifting them and at the same time safeguarding them. "A reservation of 33% has been made for women in government service and furthermore, women entrepreneurs now have been provided reservation which gives them an upper hand in tender bids for government contractual works. The State government further proposes to create a Sikkim Women Police Special Task Force and urges our women to take benefit of this opportunity," he said.
In his message, the Governor extended his gratitude to all the Covid frontline workers who have selflessly and fearlessly worked to keep people safe during these difficult times. He informed that the government is fully committed to provide vaccination support to all the eligible persons.