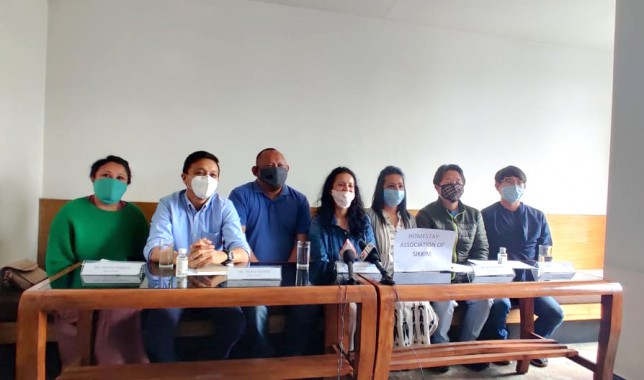 Sunday, May 31, 2020 15:15 [IST]
Last Update: Sunday, May 31, 2020 09:39 [IST]
State urged to allow homestays to operate
ISABELLA GURUNG
GANGTOK: Homestay owners on Saturday urged the government for relaxations for the homestay sector at least, to help mitigate hardships faced by the operators.
The newly-formed Homestay Association of Sikkim (HAS) has proposed that homestays be allowed to operate for providing accommodation facilities to locals.
Hotels, lodges and homestays have been closed due to the lockdown since March 25 in the wake of Covid-19 pandemic.
"We will follow the criteria set by the government. We will practice social distancing and allow only small groups to come," said HAS functionary Nitisha Basnett in a press conference today here.
HAS is an adhoc committee that was formed recently, keeping in mind the effect of COVID-19 on the tourism industry. It comprises of over 45members from all four districts of Sikkim.
"The lockdown has hit the tourism sector and we felt the necessity to form an association. We are in the process of registration and the memorandum is being drafted," informed HAS president Jigmee Dorjee Bhutia.
General secretary Gyatso Lepcha said, "The idea of forming the organization is to move the tourism industry forward. As Sikkim supports eco-tourism or sustainable tourism, homestays play a crucial part. Over the years, we felt that homestay stakeholders were never included so we would urge the members to come together to develop it into sustainable tourism. The association also aims at making us inclusive and be part of the tourism sector."
A unified body for homestays was required for a long time, expressed HAS general secretary Pintso Gyatso.
"Due to Covid-19, there was difficulty in representing homestays. HAS is a crucial body that will help the government with the upcoming schemes and policies. In the long run too, such bodies are important because unlike any other body, homestays are spread across all four districts, from the grassroots to the urban centres. According to our survey, there are more than 1,300 homestays in Sikkim, which is a large section of the tourism industry. The homestays and HAS will be closely linked with eco-tourism," he said.
Almost 80% of homestay owners depend on tourism for primary source of income. A large section is being affected due to Covid-19, the general secretary added.
HAS is still in its initial stage and plans to bring together all the homestays operating in the State under the organisation.