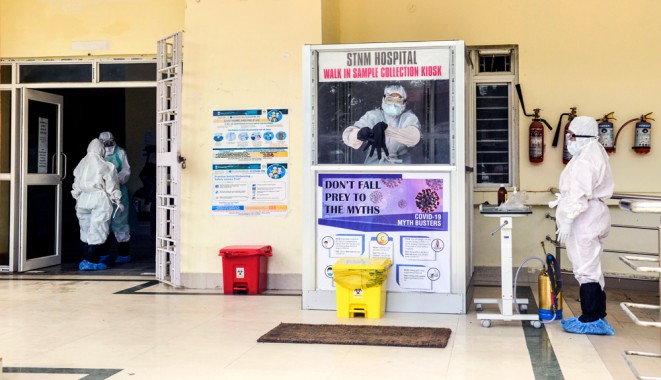 Tuesday, Jun 02, 2020 14:15 [IST]
Last Update: Tuesday, Jun 02, 2020 08:41 [IST]
STNM viral lab testing to ease load on quarantine centres
SE Report
GANGTOK: Since it went operational from March 29, the viral lab at STNM hospital, Sochyagang here has received 514 samples for Covid-19 testing in its RT-PCR machine. Among them, 356 samples tested negative and results of remaining samples could come by tonight, informed Health secretary-cum-director general Dr. Pempa T Bhutia in his Monday health bulletin.
Meanwhile, reports of 694 samples of Sikkim are still awaited from North Bengal Medical College & Hospital (NBMCH) lab.
Combining all the samples at STNM hospital (both Truenat and RT-PCR) and NBMCH, a total of 3,525 samples have been collected for testing from Sikkim so far. Among them, reports of 2,601 samples came negative and one sample tested positive. Results of 924 samples are pending.
The lone Covid-19 patient of Sikkim, whose sample tested positive, is keeping well and under treatment at the devoted Covid-19 centre in STNM hospital.
Dr. Pempa informed that there are around 3,308 persons in the quarantine centres in different parts of the State presently. Another 1,655 persons have been discharged from the facility quarantine centres and are undertaking 14-day home quarantine.
Dr. Pempa informed that testing would be done on a bigger volume and faster rate now that Sikkim has its own ICMR-validated lab. This will enable us to timely discharge the persons from their quarantine centres, he said. He appealed the discharged persons to follow the safety guidelines, stay indoors and maintain proper hygiene during the home quarantine period.