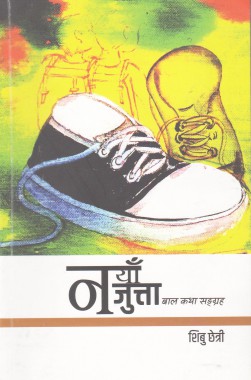 Monday, Jan 25, 2021 07:00 [IST]
Last Update: Monday, Jan 25, 2021 01:32 [IST]
Strides in Children Literature
MAHENDRA P LAMA
BOOK REVIEW
As village children we were mesmerised by folk tales ranging from 'Sunkesari Rani' to 'Raja Harish Chandra's son' and Ban Jhankris to a 'thirsty crow'. We all sat around a fire place and excitedly listened to the incessant flow of enigmatic stories that were narrated to us by our grandparents and other elders. While in school, our wooden wall of the primary section of Scots Mission School, Singamari in Darjeeling was decorated with a map of Darjeeling and the surrounding countries. And the small assembly of young children sang in their full-throated voices "darjeelingko, darjeelingko  simana  batauchu ma, purbatira bhotang rashtra, paschimtira Nepal chan". Karthak Sir, Bahun Sir and Sabitri Guruama acted together to show us the directions of this hand drawn map at the heart of which our national anthem 'jana gana mana' was also scribbled in a very readable form.
Text books like Kishalaya carried in them wholesome stories of bravery, food, seasons, festivals, nature, love and compassion. Celebrated children literature writers like Naina Singh Yonzone, Parasmani Pradhan, Babulal Pradhan and several others simply captured our minds with stories of Kumalhe, Dakarmi, Sikarmi, dhedo, kheer, sankrantis and of course mountain deities.  This is when we learnt that the height of Mount Everest was then 29002 ft from the beautiful narration in 'Mount Everest Abhiyan' by Parasmani Pradhan. This is where we realized the moral of being sweet when possibly Babulal Pradhan told us that 'hey nani mitho boli sabai sanga gara, mitho boli bolda kheri keko huncha dara".  I do not exactly recall whose poem it was titled "hami ramauchau" . Oh ! What a chain of deepening happiness that were injected by the superlative descriptions of nature in this poem when it captured the hatching by a hen as 'ekaish dinma challa kad-da hami ramauchau".
At the time, Laxmi Devkota's "hatako maila, sunako thaila, kegarnu dhanale, saag ra shisnu khaeko jitcha anandit manale" was liked by every school going child.  When I went to Khalanga in Dehradun and paid tributes to Gorkha soldiers at the Nalapani war memorial , the reverberation of what I read as a school boy came back so vividly and astoundingly. It was the soldiers of Bir Balbhadra and Amar Singh Thapa who while valiantly fighting against the bullets and bombs of the British East India Company led by General Robert Rollo Gillespie in 1814, cried out saying "andra lagyo chukti khelna, tigra lagyo kamna, saktina maharaj patthar kala thamna".
In our school, Sabitri Guruama sketched the seed alphabets like 'ka', 'kha',  'ga' , 'gha' on the wooden floor with a chalk and we drew the shape by placing corn kernels on them. Later 'maukhik ganeet' (oral calculations) was taught where we learnt to calculate in our minds the addition of four numbers divided by another number. Children literatures was so very vital for us to get into the business of learning and in the art of acquiring knowledge. Then the interaction with nature was the second dimension of our learning.There is a rivulet flowing, rhododendron flowering happening in just the beginning of spring, birds go for hatching in rainy days, 'dashaikira' invading all around in October and bright orange colored tangerines hitting us in November.  Seasons and its creations matched so well with what was there in our text books and the fascinating stories therein.
When Kafal and Totola were growing up in Delhi in late 1980s and early 1990s, Sabina and I decided to feed them with the best of children literatures. While we brought some from Sajha Prakashan in Kathmandu, the richest collections were available in Children's Book Trust and National Book Trust in Delhi. The varieties of these children books and monographs published in various other Indian languages ranging from environment to science, technology to food, personalities to history, mythology to geography and sports to music surprised us forever. There were books for all likes of children. Diversity was the hall mark. These books were so attractively illustrated and lucidly laid out that even the parents tended to imbibe the habit of reading. This is where we realized that large number of our oral stories in the hills and mountains needed to be documented and published so that they could be accessed by diverse echelons of our children in various languages and dialects. Sikkim University's popular 'oral history' project initiated in 2008 traces its origins among such literature needs and knowledge gaps.
However, back home in the hills and mountains, published children literatures are still very limited. On top of this we have lost and are fast losing a wholesome generation of story tellers with wrinkled faces and captivating organic expressions. Indian Nepali literature has recorded a hugely increasing gap in the most needed field of children literature. While our writers are receiving national Sahitya Akademy Awards and have been publishing some very impressive creative writings of all genres, we hardly find even shelve-full of books for our children in our own native languages. That is one reason why we suffer from a handicapped reading habit. This has had a huge implications and cascading adverse impact on our intellectual pursuits and research and development achievements.
On top of this now we have so called digitized reading provisions triggered by another so called technological innovation like Ipads, Kindles, mobiles and laptops. This keeps our children away from touching, feeling, smelling and reading the printed books, acquiring them and conserving them. This is a criminal deprivation, blatant societal alienation and family negligence. I have realized every book smells differently, gives contrasting touch vibes, emits divergent rays of knowledge and emanates unusual freshness.
Nevertheless, I gather that there are Indian Nepali writers like Snehlata Rai, Shailendra Samadarshi and others who are now producing some effectively meaningful children literature in Nepali language. I have not had the opportunity to read their writings and also interact with them. However, I just finished reading a fascinatingly beautiful book "Naya Jutta" (New Shoes) by Shibu Chettri (Sambodhan Publication, Salgara Bazar, 2019, Rs 150), essentially targeted at the primary school going children.  It takes just two hours to read this 104-page book as one after another the themes are straightforward and easily readable. Any child would like it as it has seven prudently inter woven themes of parents and grandparents, teachers, schools, education, poverty, nature and villages. Shibu Chettri is an infectious story teller that spreads its warmth through simple expressions and languages spoken commonly in the hill villages.
There are twenty stories that start with 'Naya Jutta' wherein a small stubborn boy Bimal becomes a nuisance to his mother as he has so many excuses not to go to the school. Once his mother buys a new pair of shoes for him as an incentive to go to school, he readily and happily agrees. The very next day he gets another excuse seeing his friend Rohan wearing more beautiful shoes. He again goes back to demand his mother the same shoes like that of Rohan. Bimal cried, threatened and literally persecuted his mother which forced her to narrate the same to his father. Bimal was very scared of his father. Considering the pleas of his mother Bimal was given the same kind of shoes. When he went to the school again, his first intent was to show new pair of shoes to Rohan so that they are at least equal. Unfortunately, Rohan had put on an old pair of shoes and when asked about the new shoes he said that he had borrowed that from his neighbor for a day. Bimal felt uneasy and regretted that he did not treat his mother well and went back home to profusely apologise. He then goes to school regularly.
Shibu Chettri's stories have underlying lessons. In 'Naya Jutta' it is a case of what we call in economics as 'demonstration effect' i.e. how demonstration of a particular item attracts others in peer groups and leads to consumerism. In another breath-taking story 'kankanma samahit' a lady loses her husband and none of the four sons attend the funeral. She does the last rites alone and "antim palta patiko pau Teestako panile nikkai ber dhoin". Their father had given the best of education to them and they had all become 'thulo manche'.  
The priceless word and possession 'Aama' is the title of another story of a famine struck village where 'Aama' loses her husband. In order to save her children, 'Aama' goes out to fetch water and food and loses her way back. Sons despite being given all the worldly offers by a fairy, discards them to look for 'Aama'. Seeing their love for their mother, fairy provides a horse to finally locate their lost 'Aama'. The lesson here is unconditional love.
Realization and repentance are the core themes in the story 'napadnele yeserinai dukha pauncha'.  A young boy Utsav despite all the facilities just does not want to study. His mother once took him to her village that passed through rivulets and jungles. Two visual incidents in this village changed Utsav totally. After that he went to school with great enthusiasm and dedication. He saw a small boy carrying a 'doko' bigger than him full of fodder. His father had left the village after the tea garden was closed. This small boy told Utsav that he also dreams of going to a school. In another incident, he saw a man working in the roads and badly bleeding from his foot. Utsav cleaned his wound and bandaged it. The man told him that he could not go to school because of poverty.
'Kulatlai Tilanjali' is about the weaknesses of our police and government system taking advantage of which gambling, drinking and other abuses are openly practiced by the people even around the police station. It's about how even school teachers and other educated people closed their eyes to such dangerous trends in the society. When these elements started entering into their classrooms, the helpless students themselves started combating these elements through various awareness programmes.
The old age woes, pains and their neglect by their own children are very well captured in two stories ' Rog ra budyauli nalagos' and 'Buwa Doko Nafyaknu hola'. In the second story Madan carries his old father in a basket 'doko' to throw him alive in the Teesta river so that he gets rid of this old man. However, as he was going out to do so, the grandson asks him not to throw the 'doko' into Teesta. Awakened by this proposal the father asked his son why are you requesting not to throw 'doko' and only throw father (grandfather), the son replied saying that he would need that 'doko' to throw him (his father) when he gets old. In the same story, the said boy does exceedingly well in the class room as he is both obedient and hard working.
 'Rabinle chalai paena' and 'school ko chano ' I found, to be the best two stories. Rabin is good in acting. And when teachers did not turn up to teach, he used to do the acting of the absent teacher to entertain his class mates during that class period. Once the headmaster saw that happening. However, seeing the talents of Rabin, the headmaster gave a lecture to the entire class about how to dream big and become an economist, actor, IAS officer, professor, journalist or a writer. He even said that for film acting training you should all go to Film Institute in Pune. Inspired by the Headmaster, in the inter school drama competition, Rabin and his team brought laurels to their school. However, the question remains how many children get the right guidance and opportunity like Rabin to prove their mettle.
In 'school ko chhano', the headmaster of the school with leaking roofs neither would like to close the school during monsoon nor want the students to be affected by dripping raindrops in the class room. Therefore, he assembled all the students at one place and requested them to go and help Antare Dai of a distant village to pluck the matured squashes in his garden and make him sell them to finance the repairing of their school roof. Children did exactly that. Antare Dai also was able to save his livelihood as he had no one to help him pluck such massive quantity of squashes.
How grand-parents help their grandchild to overcome ragging in the school and how simple missing of a picnic because of very sudden sickness makes a girl realize the importance of natural food like green vegetables, milk, rice, fruits, roti etc. are other two stories located in the schools premises. The girl was in the habit of eating just junk foods like readymade noodles, pizza etc. The significance of cleanliness, hygiene and impact of malnutrition and child labour are adequately highlighted in three stories  'Chuutinchau bhetnaka nimtinai', 'Bijayle hath nadhoi khapakhap khanda'   and 'Boot palish garne keto'. The landslide in Ghaybari tea garden had killed so many people and being an orphan this boy started doing boot polish. The final story 'Ektanai bal' is about unity and ingenuity shown during the period of crisis wherein a flock of pigeons survive the tricks of a hunter by entangling themselves from a well spread out net. Shibu Chettri flawlessly uses typical village jargons and expressions that add realistic flavor to his stories.  
Children literatures have to be written as extensively as possible in all spheres of disciplines and subjects including food, conflicts, science, technology, history, geography, personalities, bio-diversity, natural resources, products, industries, music, sports etc. That's how the Japanese have been able to make their children one of the most reading generations in the world today. Their publications are mostly directed and streamlined through spectacularly illustrated comics popularly known as Manga. As the children grow up, they then gradually yet steadily move from Manga to major textbooks in all disciplines and finally to critical research and development. That is why Japanese newspapers like Asahi Shinbun has sale of more than 80 lakh copies every day. Bhawani Pradhan, now a Gangtok based noted artist and painter did the first Manga in Nepali entitled 'Shikhartira' in 2011 and sold numerous copies as a part of children literature. We need many more such enthusiastic writers to add to our children literatures to both to imbibe a habit of reading and to keep our language and literature alive even among the younger generation.
(Lama is a senior professor in Jawaharlal Nehru University, New Delhi and has served in the national jury of Sahitya Akademy Awards).