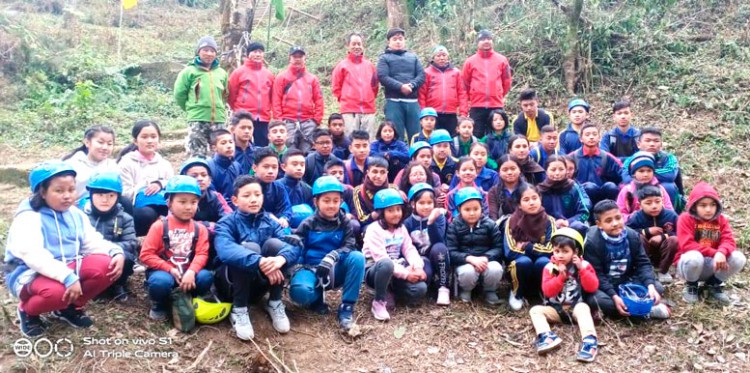 Friday, Feb 07, 2020 12:45 [IST]
Last Update: Friday, Feb 07, 2020 07:03 [IST]
Students learn adventure skills at adventure tourism fest
DICHEN ONGMU
GANGTOK: Students from a local school were imparted ladder climbing, ziplining and other essential adventure skills by experts at an adventure tourism fest at Sonam Gyatso Mountaineering Institute rock climbing site near Selep Tanki.
The adventure tourism fest is organised by Indian Himalayan Centre for Adventure & Eco-tourism (IHCAE), Chemchey under State Tourism department. The fest started on January 31 and will continue till February 9.
IHCAE deputy director Kazi Sherpa today gave a live demonstration on ladder climbing, traversing, ziplining, net climbing and other activities to the students from Enchey senior secondary school.
"We have focussed on adventure, self-preparedness and safety. With lessons on safety measures, we are also teaching them the benefits of fit and healthy lifestyle," informed Sherpa.
"It is important for the students as due to digital era children are mostly engaged indoors and have become very weak physically, however due to such activities the children will stay fit and can confidently handle difficult situations in life in future," he added.
The fest also has adventure activities like rock-climbing, mountain biking and skiing.
The response is good and there are participants in various groups and batches in all the sports, said Sherpa.
The registration fee is nominal for the students. The organisers are providing all the necessary equipments along with food and lodging facilities.