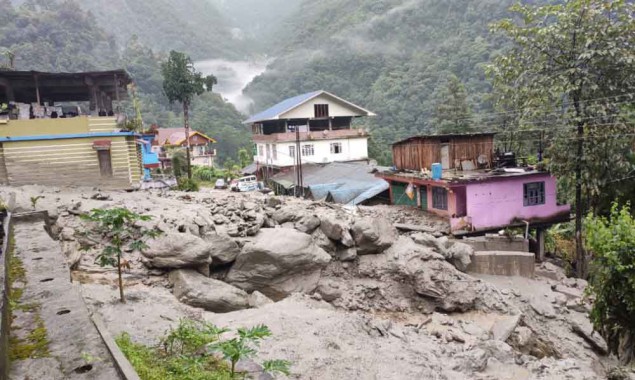 Monday, Jun 29, 2020 14:15 [IST]
Last Update: Monday, Jun 29, 2020 08:22 [IST]
Surviving The Dangerous Saturday Night
Staff Reporter
GANGTOK: As the landslide avalanched from uphill Panang at around 8 pm of Saturday night, the 35-odd families of Passingdong village were caught between the devil and deep sea.
Heavy rains, complete darkness and a dangerous slide rumbling through their village - danger lay outside where one could get caught by the slides in the darkness. It was risky to stay indoors also considering the intensity of the slide.
As shared by the local residents, many of them rushed outside and braving the slides, took shelter in whichever place they could find stable and safe. Others decided to stay where they were given it was pitch dark outside amidst a ferocious landslide.
"We tried to evacuate in the night but there was no power, it was pitch dark and continuous rains at that moment. Some of the villagers managed to evacuate and took shelter elsewhere while others decided to stay where they are," said local villager Gyatso Lepcha.
In the morning hours of Sunday, the images of a devastated Passingdong village started circulating in social media depicting the intensity of the landslide. The district authorities reached the village and despite logistics issue due to fractured road connectivity, have managed to set up a shelter camp at the nearby PHC.
The whole village have been evacuated and nobody is staying in the village at the moment, said Gyatso informing that the landslide is still active.
The danger is still there, one can see huge boulders are still hanging precariously on top of the slide uphill which can come down anytime, said Gyatso. We have to wait for the slide to be stabilised before any restoration work can be taken up, he added.
A similar landslide had damaged houses at Passingdong in 2018. The slide this time was three times in intensity, said the local resident.
Gyatso informed that even the Mines & Geology report shows that Passingdong lies in a vulnerable area and prone to landslides. We may later approach the government requesting that the people of Passingdong are resettled at another safer location, he added.
Further above Passingdong lies Mantam which had been completely devastated by a massive hill slide in August 2016. Since then, there is no permanent road connectivity to Tingvong and Sakyong-PentongGPUs.