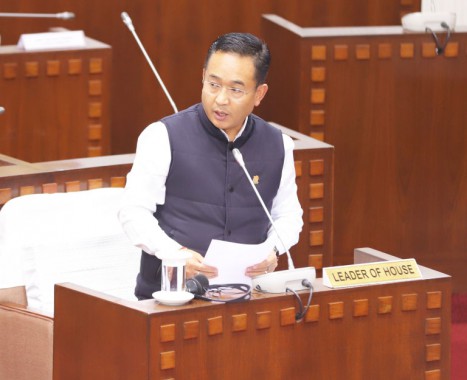 Saturday, Apr 02, 2022 07:45 [IST]
Last Update: Saturday, Apr 02, 2022 02:06 [IST]
Taking steps to control leakages: CM
GANGTOK,: Chief Minister P.S. Golay on Friday said the SKM government is determined to control the revenue leakages in the State departments. He was responding to questions and submissions made by Upper Burtuk MLA D.R. Thapa in the Assembly.
"We welcome and thank the member for his suggestions. The present government is determined to control the leakages in the departments. We have started our work," said the Chief Minister.
Golay added that despite Covid lockdown and restrictions, the departments have met their revenue targets.
Earlier, Thapa in his supplementary question had maintained that there are visible leakages in different departments of the State government. He suggested that instead of waiting for CBI, the State government can initiate Vigilance Probe into such leakages.
Thapa had initially sought the measures taken by the government to curb corruption. The State government has time and again announced to bring CBI to curb corruption in Sikkim, he said.
In reply, the Chief Minister shared that consent has already been accorded to Delhi Special Police Establishment to exercise powers under the Delhi Special Police Establishment Act subject to prior approval of the State government vide notification of Home department of July 2010.
"The Lokayukta and Vigilance Directorate are the institutions to address the curbing of corruption. These institutions are allowed full operational freedom. In addition, we are thoroughly examining, and the intervention of CBI will be brought about when needed in the interest of the public of Sikkim," said Golay.
Earlier, the Assembly started with an obituary reference on the passing away of former Chief Minister B.B. Gooroong.