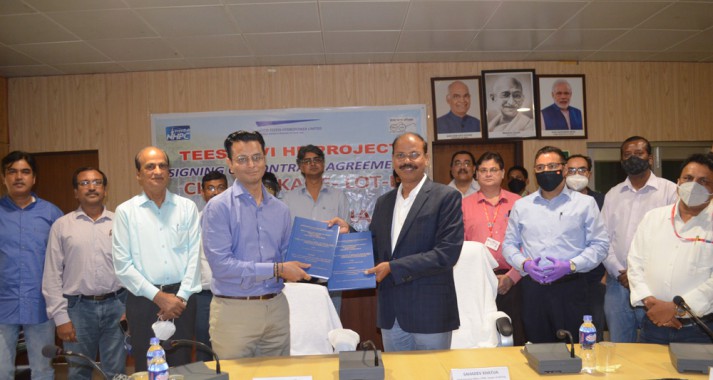 Thursday, Oct 15, 2020 11:45 [IST]
Last Update: Thursday, Oct 15, 2020 06:06 [IST]
Teesta-VI HEP constructionawarded to Jaiprakash Associates
SE Report
GANGTOK: The contract agreement of Civil Package (LOT-I) of 500 Mw Teesta-VI HE Project, Sikkim was signed between Lanco Teesta Hydro Power Limited (LTHPL) and Jaiprakash Associates Ltd today at Balutar, East Sikkim.
The agreement was signed by LTHPLCEOSahadevKhatua on behalf of LTHPL and joint managing director Pankaj Gaur on behalf of M/s Jaiprakash Associates Ltd, a press release informs.
Speaking on the occasion, Khatua said that Lanco Teesta Hydro Power Limited (LTHPL), a wholly owned subsidiary of NHPC Limited, has awarded the LOT-I package of construction of Balance Civil Works Package to M/s Jaiprakash Associates Ltd March 31, 2020 for a contract price of Rs.1,710 crore.
This package includes construction of balance civil works for barrage, desalting basins, SFT, intake structure, part of HRT-I &HRT-II and other associated structures. The work is expected to complete by August 8, 2024.
Katua thanked Government of Sikkim for all cooperation and support to LTHPL and expressed his faith on Jaiprakash Associates Ltd for completing the project in time in view of their vast experience in hydro projects construction.
Though Covid-19 pandemic has delayed the start of work, Khatua emphasised that the team is geared up to make up the loss of time.
On start of the work, there will be lot of employment avenues for local people including skill development opportunities. Construction of this work will also increases realisation of various taxes for Sikkim government, the release mentions.