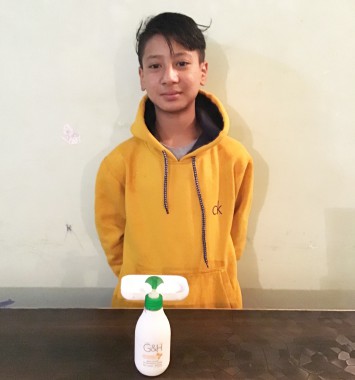 Wednesday, Mar 03, 2021 08:00 [IST]
Last Update: Wednesday, Mar 03, 2021 02:27 [IST]
Temi boy's innovation inspired by pandemic
NAMCHI,: The pandemic have opened a door to innovation among the youth. From a foot-operated hand washing machine to robots, the pandemic has unleashed a wave of home-grown innovation.
Giving a momentum to the home-made innovations, 14-year-old Anugrah Subba, a seventh standard student of Temi senior secondary school, has come up with a hand wash dispenser-cum-soap stand.
The idea behind this new and innovative approach is to have a hand wash container attached to a soap stand so that both can be used simultaneously or as per the requirement. It is attached in such a way that the unused extra soap pieces and froth runs down into the container thereby preventing it from dripping around and instead gets disposed and saved in the container for further use as hand wash with the help of dispenser.
"This is my first innovation and the idea of hand wash container cum soap stand took place during lockdown days last year in 2020," shared Anugrah.
The innovation is simple but its advantages are manifold: it will not only save the soap from going waste but will also help in recycling and reusing of plastic soap stands and plastic hand wash containers which does not need replacement, Anugarh added.