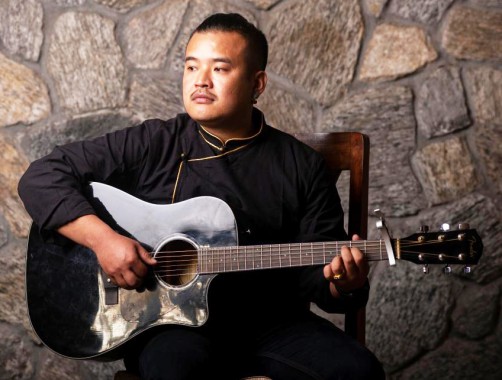 Saturday, Jan 22, 2022 08:15 [IST]
Last Update: Saturday, Jan 22, 2022 02:39 [IST]
TENZING DHONYOE | MOUNTAIN SOUL
ISABELLA GURUNG
A SE Special Story…
Usually a calm and humorous lad, once on stage, Tenzing Dhonyoe can generate intense energy through his thumping musical performance. The singer/songwriter from the neighbouring hills of Kalimpong, along with his band 'The Mountainsouls ft. Gauransh' has managed to secure a spot at the coveted Indian reality show 'India's Got Talent season 9' that premiered on Sony Entertainment Television on January 15.
The band consists of Tenzing Dhonyoe, Riko (Darjeeling), Lakpa Sherpa (Darjeeling), Gaurav (Jaipur) and Himangshu (Siliguri).
An alumnus of Central School for Tibetans, Kalimpong, the 30-year-old completed his graduation in psychology from Sikkim University. Professionally, he is a language and music teacher at Karmae Dharma Chakra School, Rumtek for the past six years.
A music-enthusiast since class IV, Dhonyoe is a self-taught musician. He plays the drums, guitar, keyboard, harmonica, flute and dranyen (Tibetan lute). He was ranked one of the best singers in the inter-university singing competition during his Sikkim University days.
His band, previously titled 'The Mountainsouls ft. Guardeep' was the first runner-up of another reality singing talent show 'Dil Hai Hindustani season 2' that broadcasted on Star Plus in 2018.
Apart from being a teacher and musician, Dhonyoe is a senior artist at Kalimpong Tibetan Opera and Gangjong Doeghar (Tibetan Performing Arts, Kalimpong).
In an exclusive interview with TGIF!, Dhonyoe talks about his musical journey.
Getting into music
Dhonyoe: I was always infatuated towards music since I was a little kid, class IV to be precise. Most of my friends were elder to me and were into bands. Band culture has always been popular in the hills for decades now. I enjoyed travelling with them to their gigs and jamming up with them. I used to watch them perform in awe and that was what inspired me to learn music.
Musical timeline
Dhonyoe: As I started taking music seriously, I joined Kalimpong Tibetan Opera during 2005-06. The group exclusively focuses on Tibetan Opera and I am still a member of it until today.
During 2008, I also became a part of Gangjong Doeghar (Tibetan Performing Arts, Kalimpong), which is a community that focuses on Tibetan folk, classical Tibetan music etc. Gangjong Doeghar is popular for snow lion dance in the hills. I am proud to say that I am the senior artist at both Kalimpong Tibetan Opera and Gangjong Doeghar.
While in Sikkim University, my friends and I had formed a commercial band titled 'Ban Jhakri Rejects' and I was the drummer of the band. The band later split up and I was the frontman-vocalist of 'Doodles', a rock-and-roll/blues band based out of Kalimpong in 2015. The band was quite popular in the hills and we managed to take out original singles like 'Nakkal' and 'Jhilkey'.
By the end of 2017, 'The Mountainsouls ft. Guardeep' was born. We participated in 'Dil Hai Hindustani season 2' (as a band) and we managed to secure the first runner-up spot in the coveted reality show.
As the line-up has changed a bit, we have adopted the name 'The Mountainsouls ft. Gauransh' in this season's India's Got Talent.
Birth of The Mountainsouls
Dhonyoe: Prior to participating in 'Dil Hai Hindustani season 2', the band members did not know each other. During 2017, I was in the pub scene and used to perform at pubs in-and-around Kalimpong, Gangtok and Siliguri.
Seri Hang from Darjeeling was the person who introduced me to 'Dil Hai Hindustani' and urged me to participate in the reality show. I auditioned as a solo artist and got through the audition round. Three more musicians from Darjeeling and Siliguri were also shortlisted. Later, the production house suggested us to perform as a band. That was how 'The Mountainsouls' was born in 2018.
Dil Hai Hindustani journey
Dhonyoe: The overall experience was awesome. Personally, performing in Bollywood numbers was a new experience to me. The show made me understand the essence of Bollywood music. We also got to interact and perform with big names from the industry viz. Kumar Sanu, Mika Singh, Sukhwinder Singh etc. Before participating in the reality show, we had only watched it on television and I always wondered about life on TV.
After 'Dil Hai Hindustani', people have come to know about us, as a human being and an artist.
Earlier, when I used to perform as a band and in pubs, some people did know me but did not respect me as much as they do now. Now, the respect towards me has definitely increased.
Challenges faced
Dhonyoe: During my time in 'Dil Hai Hindustani', diction was the main problem. While performing Bollywood numbers, I couldn't pronounce certain words and so the organisers had hired a language teacher who helped us. I wouldn't say that my Hindi has become perfect now, I still am improving.
India's Got Talent
Dhonyoe: Keeping the Covid pandemic in mind, various rounds of virtual auditions were held starting from June-July, 2021. The calling round was held in Mumbai before the TV round for confirmation purposes during September-October, virtually. The first physical TV round was held in December 14, that will be broadcasted on Sony Entertainment Television this weekend. In the physical auditions 60+ artists/groups have been shortlisted.
After this, to reach the top 16 i.e. the semi-finals, public voting will be held via Sony Liv app. The public can give the golden buzzer to their favourite contestant via voting, that will automatically take the contestant to the semi-finals.
The semi-finals will probably be held next month.
Original music
Dhonyoe: I am focusing on Tibetan music lately. Some of my Tibetan singles are Tsedrok, Losar Jam and Sop Sop. Others include Jogi with Yankee Yolmo, Ha Malae with Neelam Gurung. As Doodles, we have Nakkal and Jhilkey by the band.
Tours
Dhonyoe: Prior to The Mountainsouls, I, along with the bands associated with me toured various places and music festivals. In the hills, we performed in The Pinetree Festival (Kurseong), Lakeside Festival (Mirik), Hornbill festival (Nagaland).
Mountainsouls also got a chance to perform at the major Tawang festival in 2018. The band also performed in Namchi, Kalimpong, and has also performed in corporate shows in major cities like Mumbai, Mysore and Ahmedabad before the lockdown.
As a solo artist, I also got a chance to to perform at Toronto, Canada in 2019.
Fav performance of your career
Dhonyoe: My favourite performance was definitely the concert in Toronto. Since I was a child, I always dreamt about performing abroad. It was also my first time abroad. The response from the audience was amazing. It felt like the best thing that could ever happen to me.
The Tibetan community in Toronto happened to know me from the reality show and they approached me through Facebook. The community conducts such concerts annually at Toronto. I was probably the first Tibetan artist to perform Bollywood numbers in the concert. The organisers had also called me to perform in 2020 but I couldn't make it due to the Covid pandemic.
Interests outside music
Dhonyoe: Bike riding, travelling and cooking. I can cook almost everything as I am passionate about cooking.
Creative process while creating new music
Dhonyoe: My writing in Tibetan is quite straight-forward and so I tend to make some grammatical errors. I have a friend Acharya Tenzing Tenkyong, who corrects and makes the lyrics as beautiful as they sound when the songs are released. The Nepali songs Jogi and Ha Malae were penned down by Neelam Gurung herself. Nakkal was penned down by me.
While composing something, I always need a guitar and so the composition starts from the riff.
I am a curious person. When I compose something, I always want someone to listen to it and give their critical feedbacks. The two persons that are on the list are my dear friend Wangchuk Takra from France and my wife Tenzing Sangmo. They suggest if I have to change certain things or keep it as it is. Their feedbacks always help.
Tsedrok took almost 2-3 years to turn out into a song. Most of the Tibetan songs are monotonous and they sound similar. My target is to bring alternative and contemporary genres into Tibetan music. There are very few Tibetan artists who perform live music here. Most of them perform on tracks. Tsedrok is a Tibetan song, but it won't feel like a Tibetan song to first time listeners. I invested a lot of time in the song because I wanted it to be perfect.
On the other hand, Losar Jam was composed in one night. I was just jamming with my friends and a song was born out of it.
Music scenario here
Dhonyoe: Music scene in the hills is very less compared to the cities. Our hills have very talented musicians but they don't have the platform they deserve. Not everybody can go to the cities to build their career. Looking at Gangtok music scenario, I am really grateful for the pub scene here. Musicians have a venue to perform during the weekends. That is all a musician wants, a proper venue to play their music, with good music system and a stage.
Social media has played a vital role now to promote artists and musicians. Especially during the pandemic, most of the auditions are being held virtually. This has expanded the horizon a bit.
As there are limited opportunities in the hills, our musicians too stay limited to their genre and don't want to explore outside their genre. A rock musician would not want to play pop, commercial or Bollywood music. A musician should touch every genre. Before I participated in 'Dil Hai Hindustani', even I was like that. I wouldn't want to perform in Hindi songs. After the reality show, I have changed my attitude towards staying in a limited genre. Now, I try and explore every genre.
I was in the reality show for at least 8-9 months. Most of the musicians in the show were into rock, blues and metal genres. If they had the attitude of staying limited to their genres, they wouldn't be in the show.
Vishal Dadlani is one of the biggest names in Bollywood. He is also the frontman and vocalist of India's leading rock band Pentagram. Had he stayed limited to rock music, he wouldn't be in Bollywood today. He is also one of the judges of most of the reality shows in India.
Who would you like to collaborate with in future?
Dhonyoe: Zee Avi is a Malaysian artist that I would definitely want to collaborate with in future. Her vocal texture is very different and I have been following her since I was in school.
Upcoming projects
Dhonyoe: India's Got Talent will keep me busy for a while. Apart from that, there are some Tibetan songs that are scheduled to be released soon. I am also composing a Tibetan song for Ladakh.