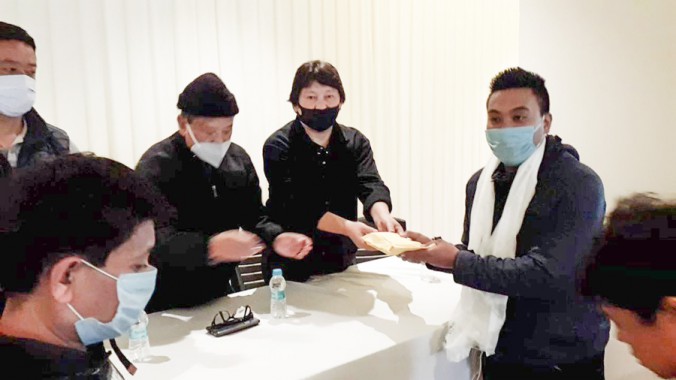 Saturday, Sep 19, 2020 13:30 [IST]
Last Update: Saturday, Sep 19, 2020 07:45 [IST]
Thapa gives own salary to unpaid hotel staff
Our Correspondent
DARJEELING: Anit Thapa, the Gorkhaland Territorial Administration (GTA) chairman has given his five months' salary to workers of the Central Heritage Resort and Spa.
The workers of the hotel located at Robertson Road have been claiming that they have not got any salary from April onwards for which they had also staged a dharna on September 13 under the aegis of the apolitical Gorkha Ekta Karmachari Sangathan (GEKS).
While handing the relief amount to the staff today at a hotel here, Gorkha Janmukti Morcha (Binay camp) central committee leader D.K. Pradhan said, about 80 workers of the Central Hotel had not been given salary after the lockdown started. "The GTA had also held a meeting with hotel owners and workers in which it was decided that hotels should give a percentage of the salary to their workers. Most hotels have been doing this but Central Hotel didn't do so," he shared.
The salary slab agreed in a meeting for hotel employees earlier this year was full amount for those earning less than Rs. 3,000. For others having salary upto Rs. 10,000 were to get 50 per cent or a minimum of Rs. 3,000 whichever is greater. Similarly, those having salary between Rs. 10,000 to 20,000 were to be given 40 percent salary or a minimum of Rs. 6,000. Those getting salary of more than Rs. 20,000 were to get 30 percent of salary or a minimum of Rs. 7,500
"The GTA chairman met these workers and also spoke with the owner of the hotel and did not get a good response so he decided that his salary of five months will be given to them. We hope it will provide some respite to them," Pradhan said adding that the Morcha would not remain silent on this and would take legal action on the issue.
GEKS general secretary Sahil Thapa who is also the staff of the hotel said, "We were called by the GTA chairman yesterday to discuss our problems. He assured to personally help us financially and has asked us to approach him if we have any problems in the future also. We are thankful to him."