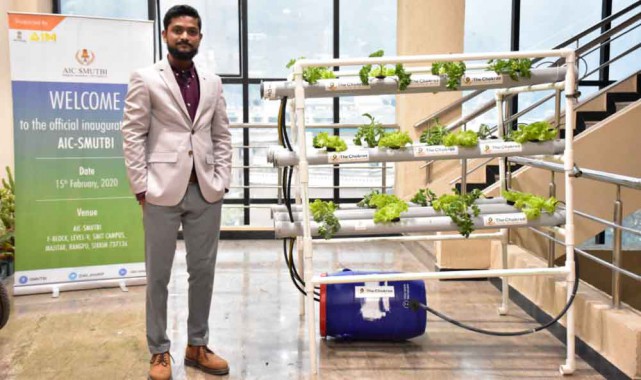 Thursday, Jul 16, 2020 13:30 [IST]
Last Update: Thursday, Jul 16, 2020 07:56 [IST]
The Chakras Farm using aquaponics to produce organic veggies, fishes in Sikkim
ISABELLA GURUNG
GANGTOK: Pranay Kumar, a young entrepreneur from Sikkim has ventured into producing organic vegetable and fish using aquaponics, a technology for raising fish and plants together in a recirculating system.
The Chakras Farm, founded by Pranay Kumar, is a Vertical Aquaponics Farming company based in Sikkim using minimal resources as compared to conventional farming.
The Chakras Farm is among the six start-up ventures from Sikkim to be selected to receive seed grant of Rs. 5 lakh each (with no EMI, no equity or share dilution) at NERES 1.0, an entrepreneurship summit aimed at offering a platform to promising start-ups and aspiring entrepreneurs across the Northeastern region.
The 25-year-old established his start-up in January earlier this year, under Atal Incubation Centre (AIC)- Sikkim Manipal University Technology Business Incubation Foundation (SMUTBI). His company is based in AIC-SMUTBI, Majhitar, in East Sikkim.
The Chakras Farm's Vertical Aquaponics Farming technique is the first-of-its-kind in the entire northeast region.
"Our farm produces varieties of green vegetables and four varieties of fishes without using any form of artificial fertilizers and pesticides. The produce of The Chakras Farm is 100 per cent organic and uses 90 per cent less water, compared to conventional farming, and is available 364 days a year," said Pranay.
"The human population is increasing faster than ever and arable land is decreasing rapidly. By 2050, with the global population expected to reach 9.8 billion, our food supplies will be under great stress. Food demand will be 60 % higher than it is today, but climate change, urbanization, and soil degradation will have shrunk the availability of arable land according to the World Economic Forum. This trend will certainly lead our planet towards a famine-like crisis, until we bring about a sustainable change in our farming techniques. The Chakras Farm houses a solid research and development team dedicated to building sustainable farming techniques to create better health for people and our planet," he added.
The Chakras Farm uses aquaponics as a technique to grow fish and vegetables at the same time.
"We feed the fishes and the fishes feed our plants through their waste output. We do not use fertilizers as the fishes provide rich nutrients for the plants. There isn't a possibility of using pesticides as it would harm the fishes. The water requirement for aquaponics is 1/10th of traditional farming, hence the technique is highly sustainable," explainedPranay.
The Chakras Farm is determined to develop and use sustainable techniques for farming, by using a minimal amount of resources to deliver maximum output.
We are equipping the planet to face the challenges of the future by providing sustainable solutions today, said Pranay.
With the Rs. 5 lakh seed grant, Pranay plans on investing the amount in marketing, production and growth of the start-up.So far, we have been successfully selling our products and winning the seed grant from NERES 1.0 has been an amazing opportunity, he added.
The Chakras Farm has recently tied up with Chitto Delivery and Retail S-Mart in Gangtok to sell their products.