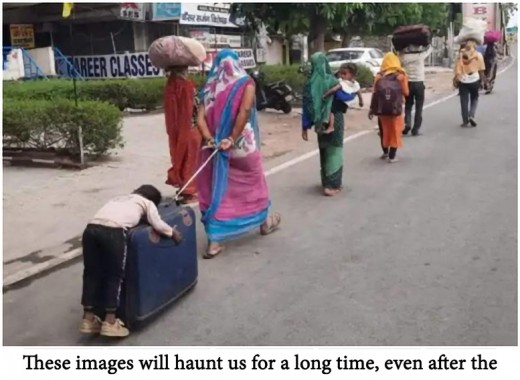 Sunday, May 31, 2020 15:45 [IST]
Last Update: Sunday, May 31, 2020 10:13 [IST]
The Front-page that shook the media world
Window Seat
Mrinal Chatterjee
As Corona deaths near one hundred thousand in USA, instead of articles, photographs or graphics that normally appear on the front page of The New York Times, on Sunday, 24 May 2020 there was just a list: a long, solemn list of people whose lives were lost to the coronavirus pandemic. There was no image- the entire front page (and many of the inner pages too) occupied names and a very short bio of the deceased person in just two or three words outlining his or her distinctive identity, for example: Florencio AlmazoMorán, 65, New York City, one-man army … " "Coby Adolph, 44, Chicago, entrepreneur and adventurer". There was no proper headline too, like we are accustomed to see in present times. It was like the old times. Remember, the New York Times started publishing in 1851, there were no headlines, in the modern sense for a long time.
The dramatic front page startled the readers and created ripples among the media circle for its sheer newness in putting together old customs and styles.
It was meticulously planned as John Grippe writes in times insider. As USA was approaching the number one hundred thousand- the editorial team wanted to come up with something dramatic- so that it would stay in public memory for long, "something that people would look back on in 100 years to understand the toll of what we're living through."
Names of the deceased persons were compiled from the obituary section of hundreds of newspapers across the country. Subeditors went through the obituaries and gleaned phrases that depicted the uniqueness of each life lost.
The result was dramatic. It showed the vastness of the tragedy. It showed tens of thousands of human beings- persons you can identify with losing their lives to the pandemic. They were not there as a part of impersonal data, they were real persons in flesh and blood. And that made the huge difference.
JamaiSasthi
Bengal (both West Bengal and Bangladesh) has an interesting brata- called 'JamaiSasthi', in which Jamai (son-in-law) is the primary focus. Mother-in-law does this brata for the long life and well-being for the son-in-law. This brata has given rise to several jokes and the image of the pampered and glutton Bengali son-in-law, as lavish feast for the son-in-law is the de-rigueur.
However, JawaharSirkar, a public intellectual and former CEO of Prasar Bharti has an interesting take on the genesis of JamaiSasthi.
Shasti was not just some local village deity of Bengal, as some believe, but like Sitala and Manasa, she is actually worshipped in many other parts of India, including Odisha. In Odisha she is known as Sathi.
A century ago, William Crooke, a British orientalist ((6 August 1848 – 25 October 1923) remarked "that the more we explore popular superstitions and usages, the nearer are we to the discovery of the basis on which Hinduism has been founded". Ashutosh Bhattacharya, linguist and folklorist, said Shasti was the protecting goddess of childbirth and infants in an age when deaths during childbirth and thereafter were quite frequent.
Shasti is worshipped in this driest part of the year just before the monsoons, and is linked to SabitriChaturdasi, celebrated in the month of Jyaistha on Krishna paksha. Celebrated widely in Bengal, Odisha and several other states, this ritual was for wives to propitiate Yama, the god of death, to pray for the longevity of their husbands. This must have been this trigger point— for converting this Shasti in favour of son-in-laws. In the late 18th and 19th centuries, child marriages and polygamy among the well-off classes in Bengal often led to the practice of Sati Daha, the burning alive of wives on the pyres of their husbands.
It was then essential for mothers and their daughters to pray for the longest life possible for the husband and son-in-law. This was certainly more important in Bengal — than praying only for their children.
Defining Image
The image of a kid sleeping over a large suitcase even as his mother is dragging it on road, the picture of tens of thousands of migrant labourers returning home and a migrant labour crying uncontrollably even as he speaks on his mobile phone- have become the defining picture of the impact of corona on the poor and marginalized people, especially migrant and daily wage workers of India.

Tailpiece: Recent findings on the Covid-19
Recent findings on the Covid-19 ... after extensive research !!!
1. Only 3 persons can travel in a car... the 4th person attracts the Covid.
2. The pillion rider on a two wheel is Covid prone !!
3. Only 30 persons in a bus. 31st will bring corona.
4. After 7 pm, corona takes walk till 7am. Don't venture out.
5. If you carry liquor from shop, corona won't mind. But it will catch you, if you sit in a bar and drink.
6. If you travel with pass between Zones you won't get it. But it will hold on to you if you travel without pass.
7. You won't get it, if you buy from vendor or shops. But it is waiting for you in a market.
8. It won't touch politicians and their crony, without mask. But if it happens to see a common man without mask, it will run to embrace him.
9. Sunday don't venture out. It is on a spreading spree ... but It is on a holiday on week days.
10. It is waiting in temples, mosque and churches. But stays away from factories, industries, even liquor shops.
11. It will surely catch you if you dine in hotels. But it doesn't bother if you sit there waiting to take away food.
12. It is not invited in rich marriages with N number of guests. But in poor man's marriage, it accompanies 51st man.
So be careful and learn to live with it ...
(Courtesy: social Media)
***
Dr. Mrinal Chatterjee a journalist turned media academician teaches at the Eastern India campus of Indian Institute of Mass Communication, located at Dhenkanal, Odisha. He also writes fiction and translates poetry. An anthology of poetry, that he translated is being published on 20 June 2020.