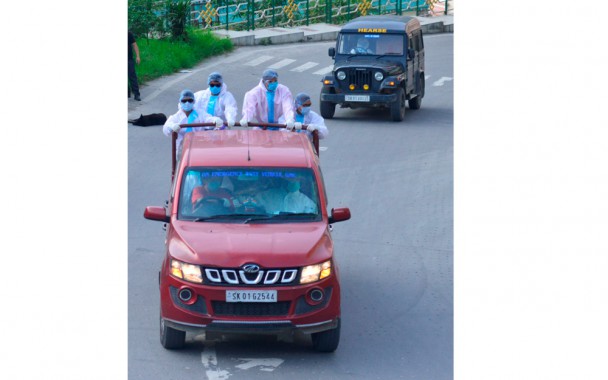 Thursday, Nov 19, 2020 12:15 [IST]
Last Update: Thursday, Nov 19, 2020 07:08 [IST]
Three Covid deaths, 29 new cases in Sikkim
SE Report
GANGTOK: Three more persons have succumbed to coronavirus taking the State's Covid death count to 95 as on Wednesday.
As per the Health bulletin, a 96-year-old male patient from Samdong had been admitted at STNM Hospital where he tested Covid positive on November 12. On November 14, he was discharged for home isolation and he passed away in the morning hours of November 17.
The second death reported was of a 56-year-old male patient from Namchey, Pakyong who passed away today morning at STNM Hospital. He had been detected with coronavirus on November 12 and was admitted at the Covid care unit of the hospital.
The health bulletin informed that a 95-year-old male patient from Ben, South Sikkim had tested Covid positive and passed away today morning. The number of Covid deaths in Sikkim is now 95, said the health bulletin.
Meanwhile, 29 new Covid positive cases were reported from the 196 samples tested on Tuesday. Among them, 22 cases are from Gangtok including nine cases from Tadong area stretching from 6th Mile to Bypass.
Two persons from North Sikkim who had been admitted at the emergency ward of STNM Hospital were also found Covid positive. They have been shifted to the Covid care unit of the hospital.
Six Covid cases were reported from South Sikkim.
The State's active Covid tally is 300 while 4098 persons have recovered from the infection. The total Covid figure of Sikkim is 4577.