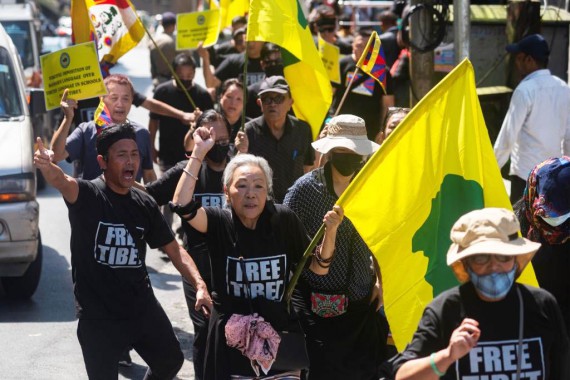 Saturday, Oct 01, 2022 21:30 [IST]
Last Update: Saturday, Oct 01, 2022 15:58 [IST]
Tibetan community takes out protest march against Chinese government
DICHEN ONGMU
GANGTOK,: The Tibetan Youth Club in association with Five Tibetan Associations of Sikkim and Bharat Tibet Shayog Manch took out a unity protest march under Blackband Campaign against the Communist Government of China, here in the Capital on Saturday.
The rally was carried out from Namnang proceeded down towards Deorali along National Highway finally culminating at Titanic Park at the entry of MG Marg.
"The Tibetans across the world are opposing restrictions imposed by Chinese Government inside Tibet in the garb of Covid prevention measures, forceful relocation of Tibetans from their native places to far flung areas for extraction of minerals and natural resources, decline in the number of monks and nuns in monasteries in Tibet and destruction of monasteries and Buddhist artefacts, mass surveillance of monks and nuns of monasteries and nunneries in Tibet, imposition of mandarin language over Tibetan language in schools inside Tibet, relocation of Tibetan school children from Tibet to mainland China and forcing their parents in order to dilute the Tibetans issue and language and collection of DNA samples of Tibetans inside Tibet for surveillance," said the rally organisers.
Gangtok MLA Y.T. Lepcha who was the special invitee at the rally expressed his solidarity to the Tibetan community who has been facing Chinese atrocities for many years. He also listed out some of the heinous crimes and torture meted out on Tibetans by Chinese authorities in Tibet and lodged his strong condemnation.
Similarly, Bharat Tibet Shayog Manch president Dr. L.P. Sharma and central committee member Rudra Poudyal said the Communist Government of China is a threat to the entire world adding that their policies are totally in violation of human rights and anti-environment makes them a global threat. The protest rally was taken out on the Foundation Day of the Communist Government of China.